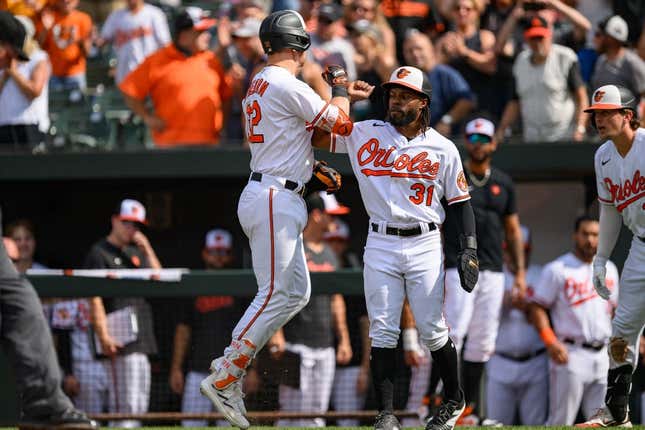 The Baltimore Orioles know the pressures of a pennant race could surface, but they're intent on just winning as many games as possible.
How running an NFL team is like running a restaurant | Chef Emeril Lagasse
The next chance to do so comes against the visiting Chicago White Sox on Monday night.
"We're seeing what's going on around the league, for sure," Orioles manager Brandon Hyde said of his team's two-game lead in the American League East.
Despite falling 4-3 to the Colorado Rockies on Sunday, Baltimore has won seven of its last nine games, and continuing to finish with the upper hand in each series is a good pattern.
"Come into this next series and try to do the same thing again," Orioles outfielder Austin Hays said of winning at least two of three games. "We still got a lot of baseball left to play so we're just taking it one day at a time. We're just trying to win as many games as we can."
The Orioles trailed after the midway point of each of the three games with Colorado. The three runs scored Sunday matched their lowest total in their last nine games.
"There just was not enough offense," Hyde said.
The White Sox are riding a rare hot wave after winning Saturday and Sunday against the visiting Oakland Athletics. That helped them finish a 3-4 homestand on a positive note.
The last time Chicago won back-to-back games, it ended up putting together a three-game winning streak from Aug. 5-7.
Chicago's Yoan Moncada went 4-for-4 with two doubles on Sunday.
The White Sox list right-hander Michael Kopech (5-11, 4.95 ERA) as their starting pitcher for Monday night. He's coming off drastically different outings.
On Aug. 18, he surrendered nine runs in four innings in a loss at Colorado. Then Wednesday night against the Seattle Mariners, he threw four shutout innings while allowing one hit, though he walked four before departing with leg cramps. He has walked at least four batters in each of his last five outings, with 22 walks and 15 strikeouts during that stretch.
"It's his responsibility and ours to come together to get that mental side right," White Sox manager Pedro Grifol said of Kopech.
Kopech had a no-decision on April 15 versus Baltimore, giving up three runs in five innings. He had a pair of one-inning stints without giving up a run against the Orioles in 2021 and then surrendered three runs in six innings in suffering a June 2022 loss to Baltimore.
Right-hander Grayson Rodriguez (3-3, 5.38) will be Baltimore's starter. The rookie has lasted at least five innings in each of his seven starts since returning from Triple-A Norfolk in mid-July, exceeding the 90-pitch mark in all of those games.
"It's just about eating innings," Rodriguez said. "Going down the stretch, just try to keep the bullpen fresh."
Rodriguez faced the White Sox in his third career game, pitching to a no-decision after working five innings and yielding four runs in Baltimore's 8-4 victory. He's 0-2 in his last six home assignments.
The three games against the White Sox come before a nine-game road trip for the Orioles.
—Field Level Media