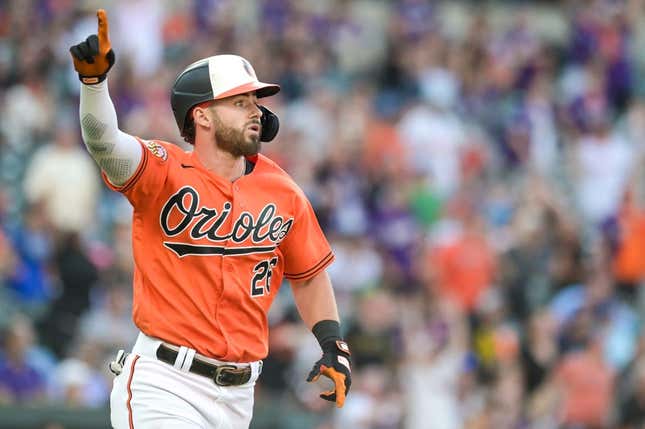 Ryan McKenna might not get many opportunities, but when he does, the Baltimore Orioles know they can count on him
Is Texas or Florida State a bigger national title contender? | Agree to Disagree
McKenna came on as a defensive replacement in the ninth inning on Saturday and ended up being the hero. He hit a walk-off, two-run homer in the 10th in a 6-4 victory against the visiting Seattle Mariners, preventing the Orioles from losing three games in a row for just the second time this season
The teams will wrap up their three-game series on Sunday afternoon when Seattle's George Kirby takes the mound against Baltimore's Kyle Bradish in a matchup of second-year right-handers.
"It's awesome," McKenna said. "Stuff you try to visualize, try to be prepared for that moment. ... Real definitely trumps.
"Just sticking to a good routine. Talking to a lot of guys that do play every day and seeing what they do and soaking it all in."
McKenna replaced Anthony Santander, who went 4-for-4 with a home run and two RBIs, in right field in the top of the ninth with the Orioles leading 4-3
McKenna watched helplessly as Seattle's Mike Ford homered to right with two outs in the ninth on a 100-mph fastball from Orioles closer Felix Bautista to tie the score at 4-4. It was Ford's second solo shot of the game
After the Mariners failed to score in the top of the 10th, McKenna came up with one out and Cedric Mullins, activated from the injured list earlier in the day following a groin strain, at second base. McKenna launched a 2-1 sinker from Justin Topa into the right field seats to end the game
Santander told teammate Austin Hays in the dugout that Hays wouldn't need to worry about batting because McKenna was going to win it.
"I called it," Santander said. "He's an animal off the bench. That's awesome. I'm so happy for him. He's been ready all game. He really pays attention to the game. When his opportunity comes, he's ready, and I'm so happy he hit that homer for us right there."
It was just McKenna's 13th plate appearance in 15 games this month.
"When you're with him every day, you really appreciate how much energy he brings to our team," Orioles manager Brandon Hyde said of McKenna. "Just the kind of person he is is phenomenal. He's a really good athlete, a great athlete, that has helped us the last couple years in a lot of ways. So fun to watch him get this moment (Saturday), and he's earned it.
The Mariners, who scored in double digits in each of their previous two games, settled for four solo homers Saturday -- J.P. Crawford and Julio Rodriguez also went deep -- and were hitless in eight at-bats with runners in scoring position
"A crazy Saturday afternoon here in Baltimore," Mariners manager Scott Servais said. "They got the big, big hit at the end of the game. We weren't able to get it. We got one from Mike Ford, but we needed one more.
Kirby (6-6, 3.29 ERA) took a 3-1 loss to the host New York Yankees on Tuesday despite pitching seven innings. He gave up three runs on eight hits, with no walks and four strikeouts. Kirby is 1-1 with a 6.30 ERA in two career starts against Baltimore.
Bradish (3-3, 3.88) beat host Tampa Bay 8-6 on Tuesday for his first victory since May 17. Bradish went five innings and allowed two runs on four hits, with two walks and eight strikeouts.
In his only previous start against the Mariners, Bradish allowed two runs on six hits in 4 2/3 innings while settling for a no-decision
--Field Level Media