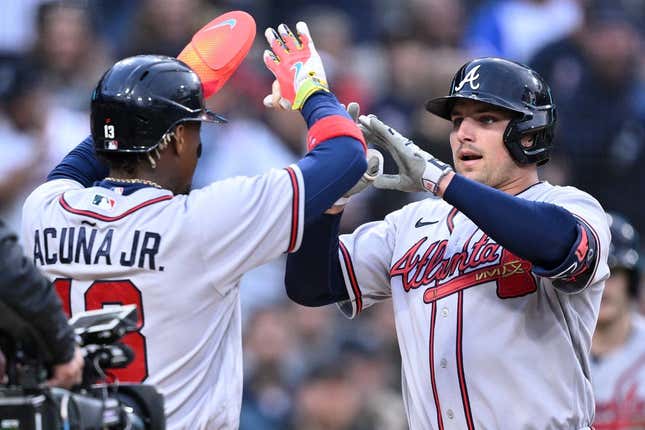 In a rematch of the 2021 World Series, the Houston Astros will begin a three-game weekend series on Friday when they visit the red-hot Atlanta Braves
Atlanta opens the series and a seven-game homestand by coming off a loss. Before Wednesday's 1-0 defeat in the finale of a road series at San Diego, however, the Braves had reeled off eight straight wins
"I like where we're at; really good road trip," Braves third baseman Austin Riley said at the end of a six-game road swing that saw Atlanta finish 5-1. "It's always nice to be where we're at now as opposed to coming out slow. Guys are putting up good at-bats and our pitching's doing a great job.
Pitching and defense were especially strong in the series against the Padres, in which the Braves gave up a combined two runs in three games
Right-hander Bryce Elder (2-0, 1.53 ERA) gets the start on Friday, looking to continue Atlanta's excellent pitching into the homestand. Elder has struck out 17 in 17 2/3 innings over three starts thus far in 2023. Friday's contest is Elder's first against the Astros in his career
The series also is the first meeting between the winners of the last two World Series since Atlanta took two of three games at home last August.
Right-hander Hunter Brown (2-0, 1.93 ERA) is scheduled to pitch for Houston. In three starts this season, Brown has pitched 18 2/3 innings with 17 strikeouts, 13 hits allowed and just four earned runs.
Friday marks Brown's first time facing the Braves in his 11th career outing and sixth start
Houston arrives to begin a six-game road swing that pits it against opponents with the best records in the National League in the Atlanta, and in the American League in the Tampa Bay Rays.
The Astros just completed a six-game homestand with a series win over the Toronto Blue Jays after they dropped two of three against the Texas Rangers
Astros outfielder Kyle Tucker delivered a base hit in all three games against Blue Jays, including a 2-for-4 performance in Wednesday's 8-1 Houston win
Tucker has hits in eight of Houston's last nine games and is batting .313 with a .984 OPS that has only recently dipped below 1.000.
Tucker was 5-for-14 (.357) against Atlanta last season and went 6-for-21 (.286) with four runs scored vs. the Braves in the 2021 World Series
Astros first baseman Jose Abreu finally seems to have settled in with his new club, collecting a hit in all three games against the Blue Jays, including a 2-for-4 performance with two RBIs in Wednesday's finale, while his batting average rose to .266. The former MVP has struck out 19 times on the season but just once over his past four games
"He's been getting his hits and it starts with one," Astros manager Dusty Baker said of Abreu. "That was huge. He got two hits (Wednesday) and he put the ball in play and he's getting more and more accustomed to all these breaking balls they've been throwing him. The more you see it early, the more you're going to get your stroke and your eye back. That was big.
Outfielder Ronald Acuna Jr. is powering Atlanta at the plate with a .367 batting average in 79 at-bats. Acuna is one of five Braves with three or more home runs, paced by first baseman Matt Olson's six
Acuna went 3-for-12 last season against the Astros. Olson is batting .219 in 278 at-bats over his career vs. Houston, having played in the same division as a member of the Oakland Athletics from 2016-22. Olson had hits in all three meetings with the Astros last season, his first with the Braves
--Field Level Media