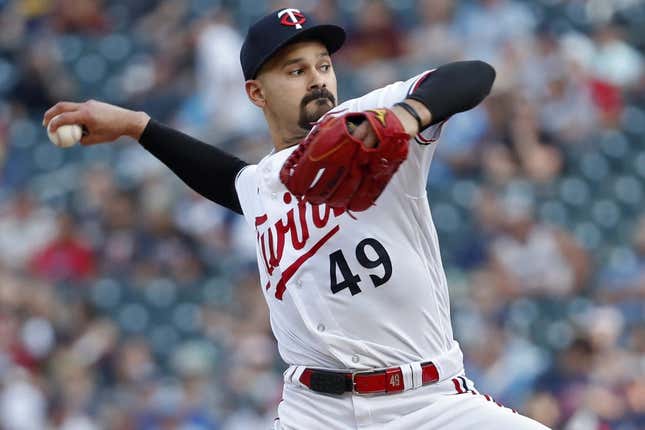 The Minnesota Twins began a nine-game road trip with a 4-1 victory over the Detroit Tigers on Friday
How running an NFL team is like running a restaurant | Chef Emeril Lagasse
The Twins, who have won three straight games, moved above the .500 mark with the victory. They will try to keep the momentum going in the second contest of the three-game series on Saturday
Pablo Lopez will start for Minnesota. Lopez (3-4, 4.40 ERA) has gone at least 5 2/3 innings in each of his past six starts but only has one win to show for it.
In his most recent outing on Monday, Lopez allowed five runs (four earned) and six hits against the Boston Red Sox. He racked up nine strikeouts for the second straight start, increasing his season total to 110 in 90 innings.
Lopez has recorded eight quality starts this season, however the fact that he was acquired from Miami along with two prospects for Luis Arraez has placed additional scrutiny on the right-hander. Arraez is chasing a .400 batting average while Lopez's season, beyond the strikeouts, has been merely average.
He'll be facing the Tigers for the first time in his career
Minnesota received an encouraging pitching performance on Friday from Kenta Maeda, who tossed five scoreless innings after being activated from the injured list. Maeda, who missed all of last season after undergoing Tommy John surgery, recorded his first victory since Aug. 14, 2021.
"You need a lot of very good to great starting pitchers in a rotation to go deep into a season, to shut down good clubs," manager Rocco Baldelli said. "It's not going to be five guys. Kenta is going to be a very important member of our team going forward. We've been greatly anticipating his return."
Baldelli watched most of Maeda's win from the manager's office. He was ejected during the second inning.
"I wish I could have watched more of Kenta's performance from the field," Baldelli said. "I saw most of it on the monitor."
Right-hander Reese Olson (0-2, 5.59 ERA) will be chasing his first career victory while making his fifth career appearance (four starts).
In his outing on Monday, Olson struck out eight in six innings against Kansas City. However, the 23-year-old also gave up four runs (three earned), including a pair of homers.
"I think I threw the ball well. The solo homers, those are going to happen," said Olson, who has yet to face the Twins in his young career
The loss on Friday dropped the Tigers 5 1/2 games behind the first-place Twins in the American League Central standings
Manager A.J. Hinch doesn't want his team focusing on the division race.
"I will grant you, we are in the mix," he said. "When you are playing competitively, that's super important for young players to feel that at this level. It's not about survival. It's about winning today's game. And the more games you win, the more you're going to factor in.
"But that's the extent of it. I'm just not going to let our team talk like that. I don't want to hear it because we have so much more to do to get better before we can truthfully talk like that."
One way to get better is by putting the ball in play more often. They struck out a season-high 16 times on Friday.
--Field Level Media