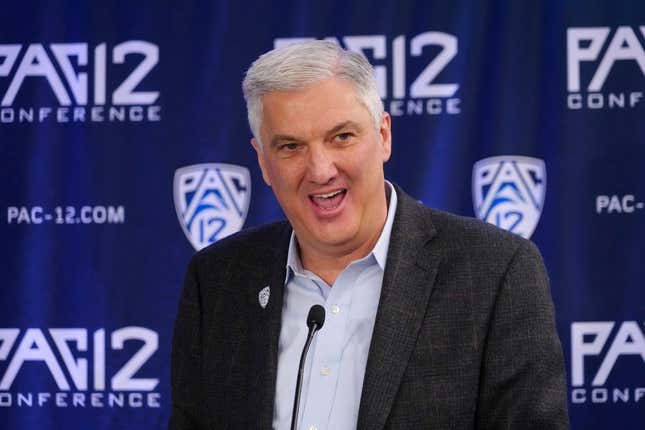 Pac-12 commissioner George Kliavkoff remains committed to finalizing a new media deal before focusing on expansion of the conference.
How running an NFL team is like running a restaurant | Chef Emeril Lagasse
"Getting the right deal has always been more important to our board and the conference than getting an expeditious one," Kliavkoff said at Pac-12 Media Days in Las Vegas on Friday. "I don't want the opportunity to be missed today to talk about football. We're not announcing a deal on purpose today because I want the focus to be on football."
He said the deal would be made public in the "near future," adding he believes options are improved by waiting longer.
The Pac-12 has been without an obvious media rights network match since agreements with the Big Ten (FOX, CBS, NBC/Peacock) and SEC (ESPN, ABC) were trumpeted in the wake of USC and UCLA marching forward with plans to leave for the Big Ten. Those conferences start new agreements in 2024 and the Big 12, whose current agreement is with ESPN and FOX, described extension talks with both networks as "meaningful." Commissioner Brett Yormark said last week the Big 12 would be looking more heavily at streaming partnerships as it braces for the loss of pillar programs Oklahoma and Texas for the SEC in July 2024.
Speculation has been rampant for weeks that the Pac-12 could be left without a media dance partner. While he touched on talks with linear and streaming platforms, Kliavkoff would not identify those options.
Kliavkoff also denied reports the Pac-12 is worried about losing additional programs to other conferences with reports the Big 12 targeted Utah and Colorado and multiple conferences discussed chasing the Oregon and Washington schools.
"It's not a concern," he said. "Our schools are committed to each other and to the Pac-12. We'll get our media rights deal done, we'll announce the deal. I think the realignment that's going on in college athletics will come to an end for this cycle."
Expansion is a topic the commissioner will talk about -- eventually -- but he said the league is not planning any additions until the media deal is done.
Hotly pursued Oregon and all other remaining university chancellors must sign off on the new media deal.
"We're proud members of the Pac-12 and we consider ourselves leaders in Pac-12," Oregon athletic director Rob Mullens said. "The landscape has changed in college athletics where resources matter, so this is a critical (TV) deal and we're confident we're going to get this across the finish line soon."
--Field Level Media