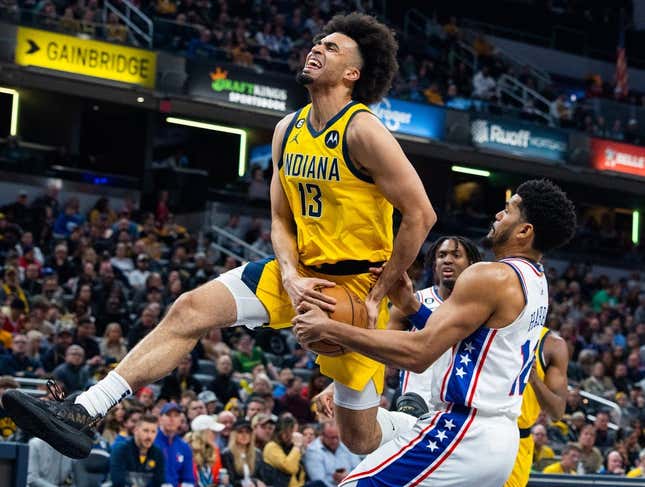 Quite a bit of experimentation is happening with both the Indiana Pacers and Charlotte Hornets.
Is Texas or Florida State a bigger national title contender? | Agree to Disagree
These teams might be testing more lineup combinations when they meet Monday night at Charlotte, N.C.
There is an eye toward the future for both teams as they try to build a stronger foundation and pick up some late-season good vibes.
Neither team is in playoff contention, though the Pacers (32-39) haven't dropped back-to-back games in more than a month.
The Hornets (22-50) are in danger of going 0-5 on this season-long five-game homestand.
"We need to focus on growth and just getting better," Charlotte forward Gordon Hayward said. "See what you can take from each game and learn from."
Part of the learning process for the Pacers involves forward Jordan Nwora, who has played 13 games with the team following an arrival in a trade. He played his first 2 1/2 seasons with Milwaukee.
"He has some really unique skill for a guy who's 6-7, 6-8," Indiana coach Rick Carlisle said. "The style we play, you've got to make quick decisions. I think it's just a matter of getting more and more used to how we play. We're allowing him the latitude to do some more things with our system. This an exploration phase with him. We're finding some things out."
Carlisle said Nwora can go to another level.
The Pacers and Hornets are coming off blowout losses to the Philadelphia 76ers. Charlotte lost 121-82 on Friday night and then the Pacers were on the wrong end of Saturday night's 141-121 result.
"We just didn't play well," Carlisle said.
Neither the Hornets nor Pacers could contain 76ers center Joel Embiid, so both teams will be trying to recover from those beatings in the lane.
Indiana's Aaron Nesmith notched a career-high 25 points in the Philadelphia game.
"Measured aggression, being aggressive in the right situations," Carlisle said of Nesmith. "His shot has been in rhythm the last few nights. It's really good to see."
Charlotte's problems were multifaceted in facing the 76ers. The offense was so inconsistent that guard Terry Rozier's 14 points led the team. That was the Hornets' lowest team-leading total of the season.
"Impatient on offense, trying to challenge Embiid at the rim, not good decision-making in the paint, which has been a problem," Hornets coach Steve Clifford said.
The 82 points were also a season low for the team.
"The better shots you take, the more shots you'll make," Hayward said.
Second-year player Kai Jones had a career-high 10 points for the Hornets. He has played 58 career games.
Nwora's final game with the Bucks came against Charlotte. He scored two points in six minutes in that game, though he racked up 17 points in 32 minutes in a December victory at Charlotte. That was his second-highest point total with the Bucks this season, though he has tallied 18 or more in three games for Indiana.
In Indiana's 125-113 triumph Nov. 16 at Charlotte, Tyrese Haliburton had a team-high 17 points. Haliburton has been out the past week with a knee injury and won't play Monday night.
--Field Level Media