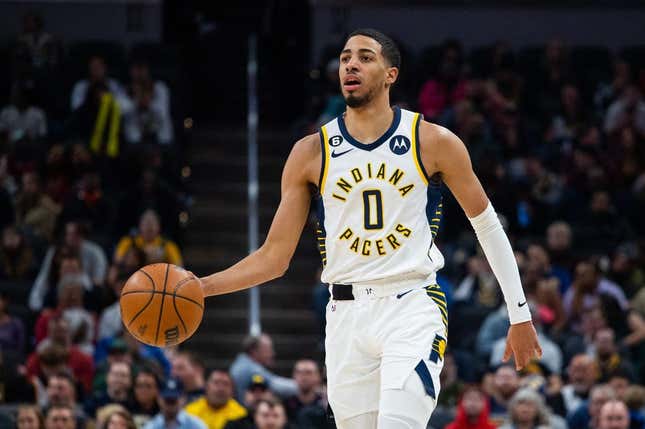 As the losses keep piling up for the Detroit Pistons, All-Star guard Tyrese Haliburton and the rest of his Indiana Pacers teammates will make it difficult for them to end their misery.
How running an NFL team is like running a restaurant | Chef Emeril Lagasse
Haliburton is averaging 27.8 points and 13.3 assists over his last six games and figures to be the primary focus for Detroit, which has lost 10 straight games. The Pistons will have to deal with Haliburton in back-to-back home games on Saturday and Monday.
Haliburton had 29 points and a career-high 19 assists when the Pacers notched a 134-125 overtime victory against the Houston Rockets on Thursday.
Haliburton shot just 5-for-16 from the field during regulation, including two misses in the last 39 seconds, as Indiana squandered an 11-point, fourth-quarter lead. He caught fire in the extra session, scoring 12 of the Pacers' 19 points on 4-of-4 shooting.
"He took over the game in the overtime," Pacers coach Rick Carlisle said. "He certainly has demonstrated that's what he's about. He loves those moments very much the way Reggie Miller loved those moments. He doesn't get discouraged if some things during the game don't go exactly his way. He stays aggressive and he has great confidence. He was just amazing in the overtime."
Haliburton is averaging 20.8 points and 10.4 assists for the season and made the All-Star team for the first time. He's become the franchise's closer, a role that he relishes.
"It ain't pressure, it's just basketball," Haliburton said. "It's just part of my maturation as an NBA player and as the point guard of this organization. I love that. I love that expectation for me."
Indiana has won five of its last eight games with Haliburton sitting out one of those losses. The Pacers haven't faced the Pistons, their Central Division rival, since Oct. 22 when Haliburton supplied 24 points, 10 assists and five steals in a 124-115 home victory.
Indiana will be without rookie Bennedict Mathurin (16.6 points per game). He sprained his right ankle in the first quarter on Thursday.
"I don't believe he'll play either of the Detroit games," Carlisle said.
The Pistons are coming off a 113-103 loss to Charlotte on Thursday. They still have a way to go to equal the longest losing streaks in franchise history. They dropped 21 straight in the early 1980s, and lost 14 in a row last season.
Detroit has gone 1-13 in its last 14 games, with the lone triumph coming in double overtime against the San Antonio Spurs on Feb. 10.
The Pistons trailed virtually the entire way against the Hornets after making eight first-quarter turnovers. They wound up committing 19 turnovers, leading to 18 Indiana points. Detroit only had two fast-break points for the game.
"Our approach was disappointing," Pistons coach Dwane Casey said. "It was the first time going through this rebuild that I felt like we were kind of in la-la land. I just don't think our focus, our give a (darn) level was where it should have been."
Veteran guard Cory Joseph had a team-high 17 points and center James Wiseman contributed 16 points and 13 rebounds. Casey lamented that the rest of his players didn't seem to care enough.
"I thought (Joseph) and Wiseman both gave us some effort, some toughness and tried to keep the scoreboard moving, tried to get stops on the other end," Casey said. "Those two guys, I thought, were pluses."
--Field Level Media