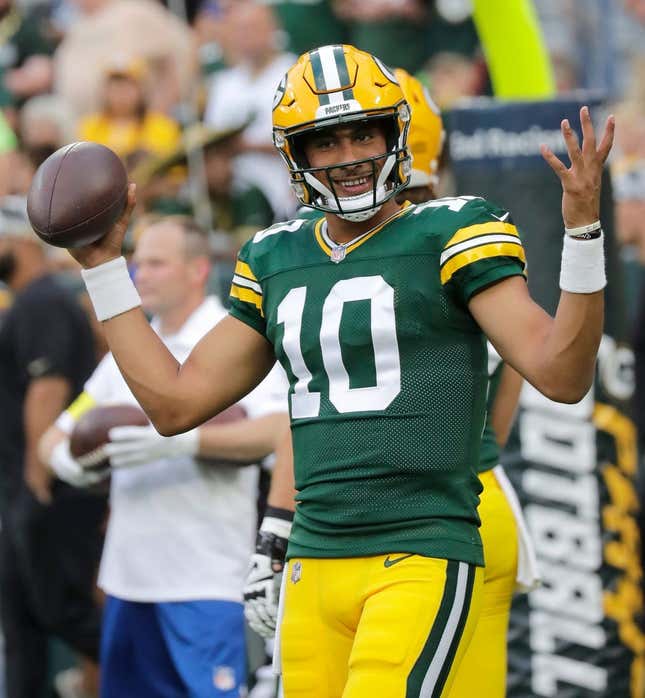 Jordan Love knows the system, and the Green Bay Packers are planning no revisions to reduce the playbook in his first year as the starting quarterback
Aaron Rodgers should go full Joe Namath | Comedian Bert Kreischer
"From a playbook standpoint, pretty much all of it's on the table," offensive coordinator Adam Stenavich said. "He's been around for three years. He really attacked. Even last year, feeling comfortable and coming into his own."
In his fourth season in the NFL, Love has had the keys of the offense since Aaron Rodgers was traded to the New York Jets. The transition could bring major changes to the Packers, as well as to how teams plot to stop Green Bay
Rodgers won four NFL MVP awards; Love has three career touchdown passes. Rodgers has 5,001 career completions; Love has 50.
The Packers are stressing to the 24-year-old Love and to others that he doesn't need to strive to be Rodgers
"Usually, the simplest things are the best things," Stenavich said, noting marked improvement in Love's approach since the start of the 2022 season. "(Love's) ability to translate the meetings to the field, and then see the game from a quarterback perspective -- not processing too fast, getting the ball out on time, getting guys out of the huddle."
Stenavich conceded the youth of the team's wide receivers and tight ends might be a reason to feed the offensive scheme in smaller portions. He said the Packers will emphasize blitz periods and pressure fronts in preparation for the regular season
"It's kind of trial and error. A lot of it is that," Stenavich said. "Just going out there, getting him with these young receivers and tight ends, allowing him to put his leadership on there and put his stamp on it, then go in that direction."
The direction of the offense has never been more in the control of head coach Matt LaFleur. He remains the playcaller, but the odds of Love overriding plays at the line of scrimmage as Rodgers did are greatly reduced. For that reason and others, Stenavich said this might become one of LaFleur's favorite offenses.
"And it's not just because of not having Aaron Rodgers," Stenavich said. "It might just be these other pieces that we've added as well. So, again, it's (organized team activities) right now so we're just going to kind of see how it all fits and once we figure out kind of how we're going to attack defenses, then we'll roll from there. But I think it might."
--Field Level Media