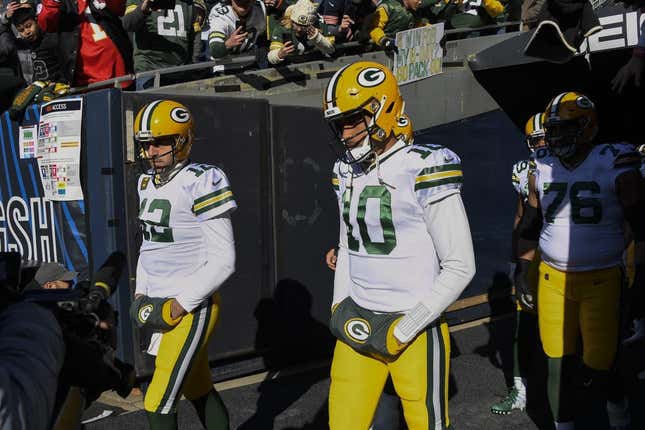 Only a few months removed from trading Aaron Rodgers to the New York Jets, team president Mark Murphy isn't ready to start making plans for a ceremony to honor the all-time great at Lambeau Field
How running an NFL team is like running a restaurant | Chef Emeril Lagasse
Murphy said at the team's annual shareholders meeting at the iconic stadium any such acknowledgment of Rodgers' greatness in Green Bay can wait.
"I want to thank Aaron Rodgers for all he did in his remarkable 18-year career," Murphy said to a few tempered boos. "No, Aaron was a great player for us for 18 years. He will be a first-ballot Hall of Famer. We will bring him back and retire his number at the appropriate time."
Retirement talk and Rodgers are not new to the Packers' shareholders, who discussed the reality of life without No. 12 each of the previous three annual reporting meetings. But Rodgers didn't retire, or keep the team decision-makers in the loop on his plans after last season ended with a loss to the Detroit Lions
At odds with general manager Brian Gutekunst since Jordan Love was drafted in the first round in 2020, Rodgers signed a new contract with the Packers before last season. But even with added input on front office and personnel matters, Rodgers and Gutekunst never fully patched up their relationship
"The best time to draft a quarterback is when you don't need one," Murphy said of trusting Gutekunst because he put the franchise in position to compete for the long term.
Rodgers, 39, started the 2023 season in a new uniform and admitted "everything is different" not reporting to training camp at Lombardi Drive. The four-time NFL MVP is in line to start for the Jets after spending his entire career to date with the Packers
Love steps into the No. 1 role with the Packers in his fourth season. Murphy said the expectation is to continue winning and applauded Love for his patience
"He patiently waited his turn to make his mark," Murphy said.
--Field Level Media