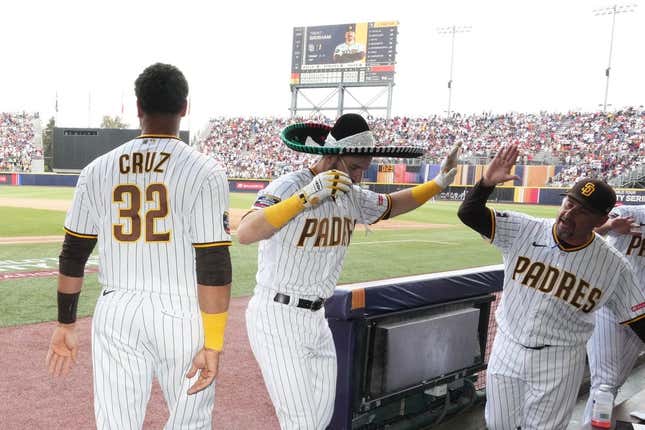 The San Diego Padres will literally be coming off a high when they return home on Monday night to host the Cincinnati Reds for a three-game series. They just swept the San Francisco Giants in the first two major league games ever played in Mexico City
Air Jordans are more American than McDonald's French fries | Deon Cole's Ultimate Sports Fantasy
Elevation of Estadio Alfredo Harp Helu -- 7,350 feet.
Elevation of Petco Park -- 16 feet.
And although the two wins in Mexico City completed a 6-3 "road trip" -- officially, the Mexico City games were Padres home games -- the Padres are only 5-8 at Petco Park this season
"We need to be more successful at home," San Diego manager Bob Melvin said at the end of the Padres' most recent 2-5 homestand
Cincinnati might be the perfect visitor. The Padres were 6-0 against the Reds in 2022 -- marking the Padres' first season sweep of an opponent since 2010. The Padres are also 12-1 against the Reds over the past two seasons. On top of that, the Padres have won 21 of 29 games against the Reds in San Diego since 2013 and are riding an eight-game home winning streak against Cincinnati
The three-game series opens with right-hander Luke Weaver (0-1, 7.71 ERA) starting for the Reds against Padres left-hander Blake Snell (0-4, 5.48)
"I´m not sitting here thinking about the record, but once we get home, being over .500 is significant," Melvin said on Sunday ahead of his team's flight home.
While the Padres were flying nearly 2,000 miles back to San Diego, the Reds had less of a tumultuous trek from Oakland, where they saw their five-game winning streak come to an end after a 5-4 loss on Sunday
"A win Sunday would have balanced the scales," joked Reds manager David Bell, whose team had lost six straight games before going on their winning streak
Weaver, 29, will be making his third start of the season since replacing the injured Connor Overton in the rotation. Weaver has allowed 10 runs on 12 hits and four walks with 16 strikeouts in 11 2/3 innings in his first two starts.
Weaver signed with the Reds as a free agent in the winter but opened the season on the injured list due to a forearm injury
"There's a lot to like about Luke," Bell said when Weaver took over for Overton. "He has a lot of experience having success in this league. He really likes being here, enjoys working with (pitching coach Derek Johnson), and feels like he can become a better pitcher than he has ever been to this point. He has a lot of years (in the major leagues), but he's still young."
Weaver is 3-5 lifetime against the Padres with a 3.97 ERA in 13 games (nine starts)
A notoriously slow starter, Snell vowed during spring training to get off to a faster start. The Padres are 0-5 in his starts to date. He has given up 15 runs (14 earned) on 25 hits and 18 walks with 26 strikeouts in 23 innings. But he has allowed two runs over five innings in each of his last two starts against Atlanta and the Chicago Cubs
Snell has never faced the Reds
--Field Level Media