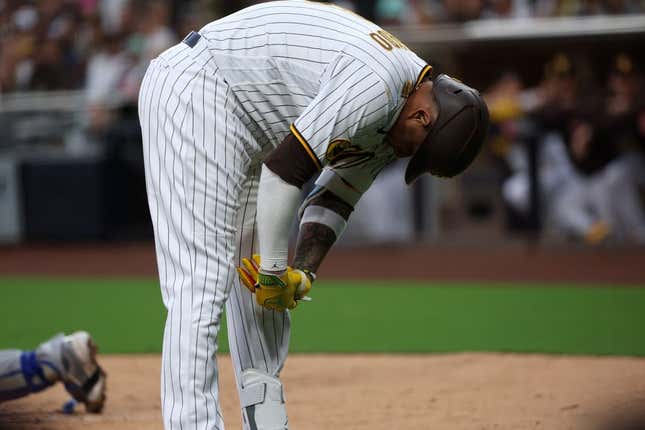 The best news for the San Diego Padres on Monday night was not Michael Wacha taking a no-hitter into the eighth inning or the end of a five-game losing streak
Aaron Rodgers should go full Joe Namath | Comedian Bert Kreischer
It was that Manny Machado did not break his hand when hit by a pitch from the Kansas City Royals' Brad Keller in the second inning
The pitch hit Machado flush while he was still gripping the bat -- a combination that can have ugly results. And Machado came out of the game two innings later when it was time for his next plate appearance, raising concerns for an already struggling offense.
"X-rays were negative, nothing is broken," Padres manager Bob Melvin said postgame. "Might have gotten a nerve or something like that. For him to come out of the game, it can't feel too terribly good. He's got quite the pain tolerance. ... We'll see how he is (on Tuesday).
Although the Padres' runs on Monday in a 4-0 victory equaled their total from three losses at Dodger Stadium over the weekend, one came on a wild pitch and another scored when Machado was hit by the pitch with the bases loaded. The Padres were 2-for-9 with runners in scoring position, a situation in which they are batting a major-league-worst .198
Melvin has spent considerable time recently discussing the team's lack of offense. On Monday, he mentioned a new theory: Maybe the Padres are swinging too much
"These guys hit, sometimes over-hit," Melvin said. "They have a routine when they get here, then they have batting practice, a routine before the game. Some guys hit in the cages during the game. Personally, sometimes I think it is a little too much. So it's not for a lack of work."
While the Padres hope to get their offense going, the Royals slipped back into an old habit on Monday. Kansas City saw its streak of homering in 13 straight games end as it took its seventh shutout loss of the season
"We haven't played a game like that in a long time," said Royals manager Matt Quatraro, whose club hadn't been blanked since April 26. "Hitting hasn't been the problem.
Tuesday's second game of the series will be a matchup of right-handers: the Royals' Brady Singer (2-4, 7.71 ERA) against the Padres' Seth Lugo (3-2, 3.18)
Both Singer and Lugo have pitched 39 2/3 innings this season. Singer will face the Padres for the first time in his career. Lugo picked up a save in his only appearance against the Royals, when he tossed a perfect inning for the New York Mets in 2019
Singer, 26, is coming off one of his best starts of the season. He limited the visiting Chicago White Sox to one run on five hits in six innings during a no-decision on Thursday. He has something of an all-or-nothing pattern this year: In his eight starts, he has yielded one run three times but has given up five or more runs five times.
Lugo, 33, is 1-0 with a 2.25 ERA through two starts this month. He has held the opposition to two runs or less in five of his seven starts this year.
--Field Level Media