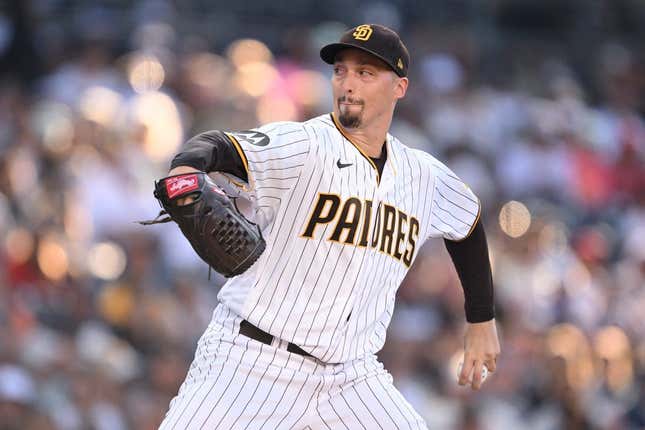 There will be an interesting left-handed mound matchup on Tuesday night in San Diego: the pitcher of the month vs. the pitcher of the ages.
How running an NFL team is like running a restaurant | Chef Emeril Lagasse
The San Diego Padres' Blake Snell, the National League Pitcher of the Month for June, will oppose the Pittsburgh Pirates' 43-year-old Rich Hill, the oldest player in the major leagues
Hill is 7-9 this season with a 4.84 ERA. Snell, a victim of the Padres' underachieving offense, is 6-8 with a 2.67 ERA
Snell has a 0.71 ERA over his past 11 starts.
Hill has some great career numbers against the Padres -- and the respect of most everyone in baseball
"We've got a young team," Pirates manager Derek Shelton said recently. "And Rich Hill is the perfect man to show the younger players how to go about being a big-league player ... how he prepares, how he handles success, how he handles adversity and how he handles himself.
And he's been nails against the Padres
Early in his career, Hill lost his first three decisions against the Padres. Going back to 2016, however, Hill is 7-1 with a 2.14 ERA in 11 starts against the Padres. He picked up a win against San Diego in Pittsburgh last month, holding the Padres to four runs on nine hits over six innings in the Pirates' 9-4 win
Overall, Hill has a 7-4 record in 14 career starts against the Padres with a 3.26 ERA, a 1.099 WHIP and a .212 opponents' batting average. The one true blemish in his record against the Padres is 14 homers allowed in 77 1/3 innings -- including eight in 26 innings over five starts at Petco Park, where he is 1-2 with a 4.15 ERA
After a solid start to his 19th major league season, Hill has tapered off in July, though. He is 0-2 in four starts this month with a 6.53 ERA, a 1.645 WHIP and a .284 opponents' batting average.
Snell, meanwhile, has been brilliant for the past two months -- giving up five runs on 36 hits and 32 walks with 95 strikeouts in 63 innings. That's an average of 5.1 hits and 13.6 strikeouts per nine innings.
"Blake is as tough as any pitcher in the major leagues right now," Padres manager Bob Melvin said. "He's always had the combination of a sharp slider and fastball that naturally moves. Now he's added a changeup and a curve ... a really good four-pitch mix.
What has held Snell back at times is his command and control. He always has recorded a lot of strikeouts. But when he has deep counts, his pitch count skyrockets ... as it did in his most recent start on Thursday in Toronto. Although he held the Blue Jays to one run on five hits in five innings, he issued seven walks while averaging 21 pitches per inning.
"He's cut the walks way down this season," Melvin said. "But when he has walks with the strikeouts, the pitch count soars, which limits how deep he can go into games."
As exciting as Snell has been this season, this could be his last start as a Padre. He is a free agent at the end of this season. With San Diego not gaining any traction in the playoff picture, there is growing speculation that Snell and closer Josh Hader could be made available at the trade deadline.
--Field Level Media