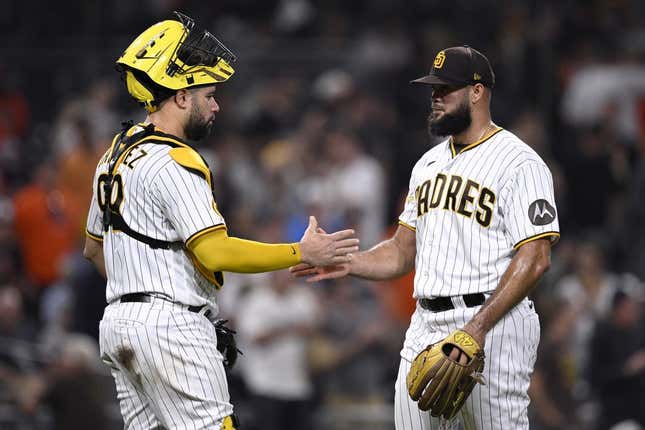 The San Diego Padres host the Baltimore Orioles on Wednesday night in the rubber match of a three-game series.
How running an NFL team is like running a restaurant | Chef Emeril Lagasse
Given the fact that the Orioles have now played 79 straight series without being swept, it's about as good as you can expect against Baltimore.
And the Padres are coming off an impressive 10-3 win, forcing Orioles' starter Jack Flaherty to throw 73 pitches in the first two innings while jumping out to a 7-0 lead.
Tuesday marked the 13th time this season that the Padres have scored 10 or more runs in a game. The bad news? They have been shut out four times in the following game after a double-digit victory. Overall, they are 4-8 in those 12 games.
The story of the Padres' roller-coaster season is inconsistency — the pure inability to string together wins much less strong games. The Padres' longest winning streak this season is three games.
Meanwhile, the story of the Orioles' season is resiliency, especially on the road. The Orioles are 10-6 in rubber games this season and 23-12-3 in series — including 12-5-2 away from home.
"We've done a good job all season putting losses behind us and focusing on the next game," Baltimore manager Brandon Hyde said.
There are some bad memories of Tuesday night's game to put behind them, especially a first-inning grand slam off the bat of Padres catcher Gary Sanchez.
"It was overall a team effort," Sanchez said after the game, through an interpreter. "Obviously, the rest of my teammates, they had great at-bats, didn't chase anything outside of the strike zone. Nobody chased. We just were disciplined. Were able to take those at-bats one at a time, and I was fortunate to just come in with the bases loaded and have my base hit."
Both teams, in the midst of a battle for the postseason, have a lot riding on Wednesday's game with an excellent pitching matchup in the offing.
Right-hander Dean Kremer (11-4, 4.50 ERA) will start for the Orioles against Padres' left-hander Blake Snell (9-8, 2.63), who has the lowest ERA in the majors. Both teams know the other team's starter.
Snell has a 2-2 record with a 4.58 ERA in seven career starts against the Orioles, who he last faced in 2020.
Meanwhile, while Kremer will be making his first career start against the Padres on Wednesday, there are connections.
Kremer, 27, originally was selected by the Padres in the 38th round of the 2015 draft while at San Joaquin Delta College in Stockton, Calif. He didn't sign with the team, however. A year later, Kremer signed with the Los Angeles Dodgers as a 14th-round draft choice — then was traded to Baltimore in 2016 as part of the package that originally brought now-Padres third baseman to Manny Machado to Southern California.
Baltimore has won seven straight games started by Kremer and 18 of 24 this season. Kremer is 2-0 in six starts since the All-Star break with a 3.71 ERA.
Snell, however, has been on a run over his last 15 starts — giving up more than two runs only once in that stretch while posting an 8-2 record with a 1.16 ERA. He was the National League's Pitcher of the Month for June.
But his career-long problem with walks has crept back into Snell's six starts since the All-Star break. He has issued 27 walks in his past six starts (32 innings).
—Field Level Media