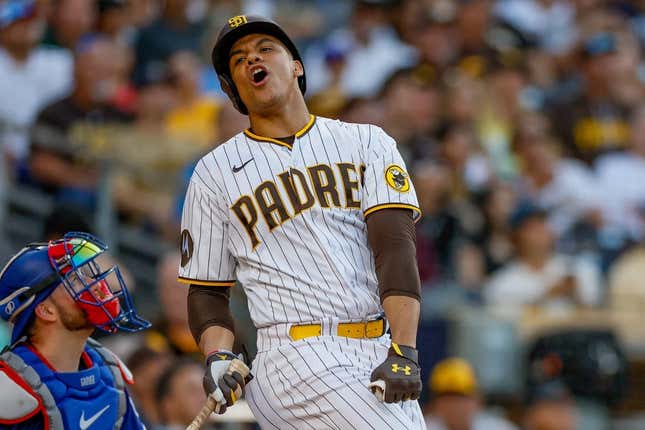 The San Diego Padres and Arizona Diamondbacks, whose managers have each said recently their team's performances are "frustrating" and "disappointing," will start a three-game series at Phoenix on Friday
How running an NFL team is like running a restaurant | Chef Emeril Lagasse
The Padres have lost their last four games and the Diamondbacks are on an eight-game losing streak
Both teams were swept in brief two-game series before having a day off Thursday. San Diego dropped a pair on the road against the Seattle Mariners, and Arizona fell twice at home against the National League West-leading Los Angeles Dodgers
San Diego's Juan Soto suggested the Padres gave up in their 2-0 and 6-1 losses to the Mariners. He added that his teammates didn't "grind every at-bat.
"It's been really inconsistent," Soto said. "Some days we do, some days we don't. We gotta do it every day. Days like this series, we just give up. Like literally, we just give up instead of keep grinding, keep pushing. We've got to forget about yesterday and keep moving.
In the 6-1 loss to the Mariners on Wednesday, Soto, Fernando Tatis Jr., Manny Machado, and Xander Bogaerts went a combined 1-for-14
San Diego had only four hits in the game
"I think any loss right now, especially after we lost the first game here, each one of them is disappointing," San Diego manager Bob Melvin said
The Diamondbacks have not won a game since July 31, when they won 4-3 in 11 innings on the road against the San Francisco Giants
They enter on an eight-game losing streak and are 7-24 in their last 31 games after taking the lead in the NL West before the All-Star break
Arizona manager Torey Lovullo's team was not shut out in its first 87 games. Now, it has not scored in four of its last 28 games and two of its last six
"I'm looking for guys to lock it in in the most critical moments, who want to step up there (at the plate), get the job done, expect to get the job done," Lovullo said. "Those are themes that we talked about from spring training on. We rehearsed it, we watched these guys execute, and the fact that we're not getting it done is extremely frustrating
"But I can promise you one thing that this coaching staff and the rest of the groups that are responsible for making good things happen, are going to die trying to get this thing turned around.
The developments with the Diamondbacks turned even worse Wednesday when starting pitcher Merrill Kelly exited after the sixth inning due to a right leg camp
According to the club, it is unrelated to a blood clot in his right calf that placed him on the injured list recently, and he is expected to make his next start
The right-hander allowed six hits in six shut-out innings against the Dodgers with two strikeouts and two walks before leaving
Arizona will start right-hander Ryne Nelson (6-6, 5.16 ERA) on Friday against San Diego left-hander Blake Snell (8-8, 2.61)
In eight appearances (seven starts) against the Diamondbacks in his career, Snell is 4-1 with a 0.84 ERA. He has 63 strikeouts and 10 walks in 42 2/3 innings against Arizona
He is facing the Diamondbacks for the first time this season
Nelson is 1-1 with a 4.43 ERA in four starts against the Padres in his career
--Field Level Medi