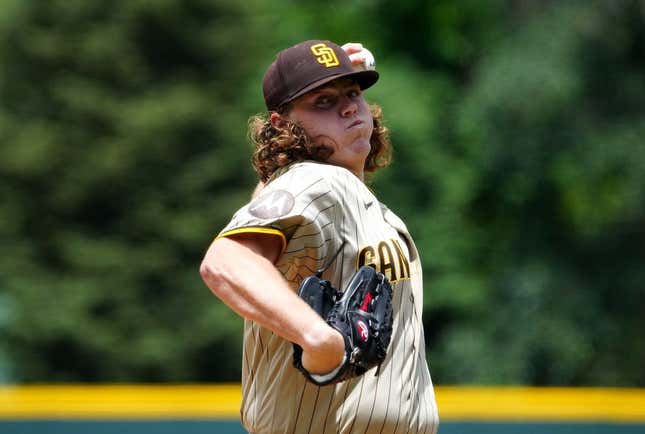 The San Diego Padres could hit a milestone on Thursday night
Not only would a win give San Diego a three-game sweep of the visiting Cleveland Guardians, but it also would lift the Padres to .500 for the first time since May 11 and also bring them to .500 in home games this season
How running an NFL team is like running a restaurant | Chef Emeril Lagasse
Winners of five of their past six games, the Padres finally are playing like the team they expected to be. That's what put an exclamation point on a decision made by San Diego manager Bob Melvin on Wednesday
Yu Darvish was scheduled to start the finale against Cleveland, but Melvin held the right-hander back for the Friday night opener of the three-game weekend series against the visiting Tampa Bay Bays, who own the majors' best record.
Ryan Weathers (1-4, 4.93 ERA) will start instead for the Padres on Thursday, facing Cleveland's Logan Allen (3-2, 3.31) in a match of highly regarded young left-handers
Weathers, who is in the Padres' rotation while Seth Lugo is in the injured list due to a calf strain, last pitched on Saturday at Colorado. He came out after 43 pitches, having given up one run on three hits with two strikeouts and no walks in just three innings. Perhaps Melvin already was looking forward to Weathers starting on Thursday
"Not getting too much into the why, it's more about how we match up against both teams," Melvin said of the Weathers-ahead-of-Darvish switch. "This is a really good (Cleveland) team that we're playing. It has nothing to do with trying to put Darvish on the team that is in first place -- it's more about how we feel we match up. Weathers will be on a little bit of short rest."
Weathers, 23, was the Padres' first-round pick (seventh overall) in the 2018 draft. He has made 41 major league appearances, including 27 starts, but he has yet to pitch against Cleveland
The start against Colorado was his best outing since he returned from Triple-A El Paso on May 14. In his four previous starts, Weathers went 0-3 with a 7.79 ERA and a 1.962 WHIP -- giving up 17 runs (15 earned) on 24 hits and 10 walks with 12 strikeouts in 17 1/3 innings.
Allen, a 24-year-old rookie, has a 1.394 WHIP and a .277 opponents' batting average through nine starts.
The Guardians' second-round pick in the 2020 draft out of Florida International, the 6-foot, 190-pounder has 51 strikeouts against 15 walks in 51 2/3 innings. However, he has given up 57 hits
Allen's ERA was 2.76 until he gave up five runs on nine hits and two walks with four strikeouts in six innings against the Houston Astros on Friday. He wound up with a no-decision in a game Cleveland won 10-9 in 14 innings.
"He's learning on the job and doing a pretty good job of it," Guardians manager Terry Francona recently said of Allen. "He's facing these teams, these hitters for the first time. Everything is new to him, including the ballparks. When he's commanding all three of his pitches, he's been very effective.
The Guardians had won six of eight games before losing the past two nights in San Diego, 6-3 on Tuesday and 5-0 on Wednesday
--Field Level Media