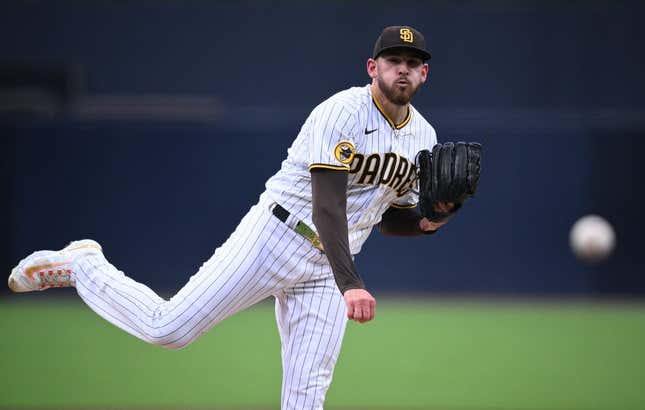 San Diego Padres manager Bob Melvin sees an opportunity
On Sunday afternoon, the Padres have a chance to win a series from the best team in baseball. And while capturing a series at home from the Tampa Bay Rays would be something of a coup, the Padres manager is thinking bigger picture -- that a win Sunday might trigger a run as San Diego heads to San Francisco to start a four-game series Monday
How running an NFL team is like running a restaurant | Chef Emeril Lagasse
And while the Rays announced late Saturday that right-handed spot starter Yonny Chirinos (3-1, 2.35 ERA) will start the rubber match, the Padres have right-hander Joe Musgrove (4-2, 4.37) working with an extra day's rest
"Winning series gives you some traction," Melvin said Saturday. "But where we are in the standings and the personnel we have, we still need to go on a roll. That's going to be what makes up ground in a hurry. Winning series, you pick up one game, whatever. ... It's good when you win a series. But we still have a need to do more than that.
"We can't get a winning streak going. We're not gaining any traction because we haven't got on a run."
Might a second straight win over the Rays on Sunday serve as a springboard to a run? Maybe. But the Padres' longest winning streak this season is three games
Meanwhile, the Rays need a win Sunday to avoid their second losing road trip of the season
"We didn't generate any offense Saturday," Rays manager Kevin Cash said after a 2-0 loss. "We haven't had many games like that ... three hits, 17 strikeouts, no balls out of the infield after the third.
Now the Rays face Musgrove, who is 3-1 over his last four starts with a 1.93 ERA after allowing six runs (five earned) on 20 hits and five walks with 22 strikeouts in 23 1/3 innings
"After some early setbacks, Joe has found his stride," Melvin said.
But Musgrove is dealing with another problem in a season that was delayed from the start by a broken bone in his left foot suffered when he dropped a weight early in spring training. Recently, Musgrove has been experiencing bursitis in his elbow.
Sunday will be Musgrove's 10th start of the season. Overall, he has a 1.331 WHIP and a .262 opponents' batting average. The Padres are 5-4 in his first nine starts. Musgrove has faced Tampa Bay twice -- both times in 2017 -- giving up four runs on seven hits and two walks with eight strikeouts over nine innings in two games (one start)
Both of Chirinos' previous starts this season have come during his last five appearances. He has split the season between Triple-A and the Rays and never faced the Padres before
Chirinos' most recent start came on June 8 against Minnesota. He held the Twins to one run on five hits with four strikeouts in 5 2/3 innings to get the win.
"When he's given up runs this year, he's been one pitch away from getting out of the jam," Cash said.
Chirinos has given up 10 runs on 24 hits and 12 walks with 17 strikeouts over 38 1/3 innings in nine appearances this season.
--Field Level Media