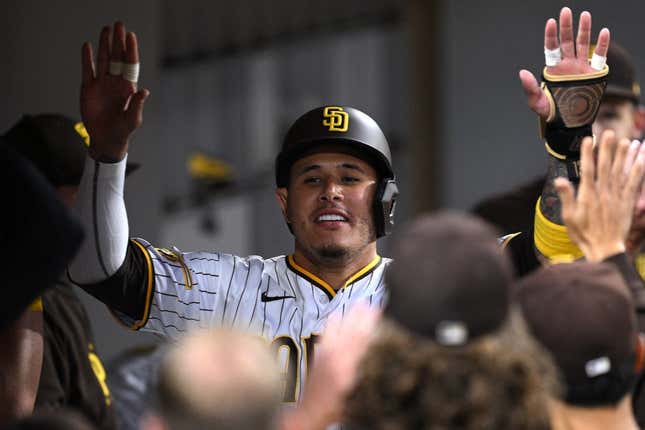 Finally, the San Diego Padres are on a bit of a run
They have won four of their past five games and would be riding a season-best five-game winning streak had they not blown two late-game leads in the rain Sunday in Denver.
How running an NFL team is like running a restaurant | Chef Emeril Lagasse
And as much as that loss stings, Padres manager Bob Melvin is seeing some of the results he has expected all season. The Padres are 7-4 in June while averaging a run a game more than they had over the season's first two months
"This was good," Melvin said after Tuesday night's 6-3 win over Cleveland to open a six-game homestand that concludes with three weekend games against Tampa Bay.
"It was especially good at home where we've had a little problem on offense," Melvin continued. "The crowd got into it. And we came through."
The Padres will be looking to maintain the momentum Wednesday night when try to clinch a second straight series win. The Guardians' Aaron Civale (2-1, 2.31 ERA) goes against the Padres' Michael Wacha (6-2, 3.18) in a pairing of right-handers
While Wacha was the National League Pitcher of the Month for May, this will be just Civale's third start since he returned from the injured list after missing almost eight weeks with a left oblique strain. In those first two starts, Civale, who turned 28 on Monday, has given up two runs on eight hits and four walks with seven strikeouts in 10 2/3 innings.
"It can be difficult for a pitcher returning from his type of injury," Guardians' manager Terry Francona said before Civale's most recent start. "But he's looked very sharp.
Civale has made four starts on the season and given up six runs on 19 hits and six walks with 15 strikeouts in 23 1/3 innings. He will be making his second career start against the Padres. Last season, he held San Diego to one run on four hits and two walks with four strikeouts in 4 2/3 innings
Wacha, who signed with the Padres days after spring training opened in February, has been San Diego's most dependable pitcher this season. The Padres are 8-4 in his starts, and he hasn't given up more than two runs in a game since April 26
Over his past seven starts, Wacha is 4-1 with a 1.05 ERA, giving up five runs on 21 hits and 13 walks with 41 strikeouts in 42 2/3 innings. Quite a change from the first month of the season when Wacha had a 6.75 ERA.
Wacha has two career starts against Cleveland -- in 2015 and 2021 -- with a 1-0 record, 1.64 ERA, 13 strikeouts and 11 innings pitched. The Guardians enter the game 6-3 in their past nine games
"Wacha is on quite a run," Melvin said recently. "He is pitching, keeping hitters off balance with pitch selection, movement and location."
--Field Level Media