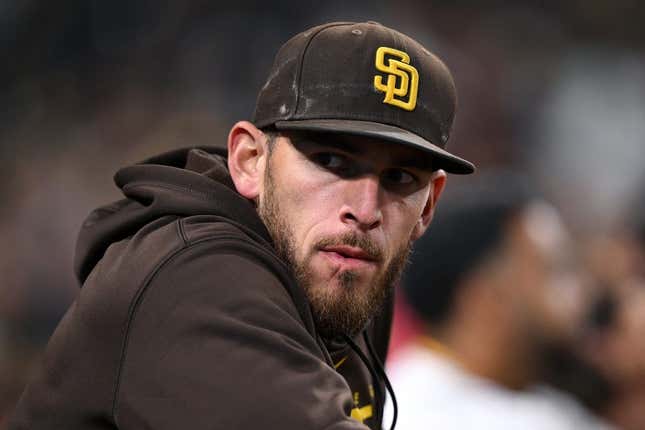 San Diego Padres ace Joe Musgrove will make his 2023 debut Saturday night in Phoenix against the Arizona Diamondbacks
And he'd better be throwing zeros -- because the Padres aren't scoring
San Diego got only two hits off Zac Gallen and two relievers Friday night to be shut out for the third time in the past six games, and for the fourth time in less than two weeks.
Over those past six games, the Padres have only nine runs on 30 hits -- with seven runs coming in one game Thursday night in a win in the opener of the four-game weekend series vs. the Diamondbacks
Right-hander Merrill Kelly (1-2, 2.53 ERA) will start for the Diamondbacks against Musgrove on Saturday night, and Kelly has a solid track record against the Padres. He is 8-2 lifetime against them, with a 2.61 ERA in 13 starts with 68 strikeouts in 72 1/3 innings
Kelly also is coming off his best start of the season, holding the Cardinals to one run on five hits and no walks with three strikeouts over six innings in St. Louis on Monday to record his first win of the season. Through his first three starts, Kelly was 0-2 with a 2.93 ERA.
A member of Team USA during the World Baseball Classic, Kelly said the tournament was a "once in a lifetime experience," although it might have played into his slow start. He's not alone -- the Padres' Yu Darvish found he wasn't ready to start the MLB season after not getting stretched out in the WBC
"I wouldn't take it off the table that (the WBC) is kind of leaking in from the preparation for the season," Kelly said before facing the Cardinals.
Arizona manager Torey Lovullo agreed, saying: "In the future, if we do have a pitcher we're sending to the WBC, maybe we'd stretch him out earlier."
While Kelly was away at the international tournament, Musgrove was idle after he suffered a fractured big toe on his left foot when he dropped a kettlebell on it. The injury had Musgrove -- who was 10-7 with a 2.93 ERA during the 2022 regular season, then starred in the playoffs -- on the injured list when the season started.
"Without a doubt Joe has taken it to a different level the past couple of years," Padres manager Bob Melvin sid. "He pitched beautifully in the postseason. Plus, the leadership qualities that he brings. He takes it to another level. I know he's looking forward to his start tomorrow.
Clearly, that's an understatement.
"I'm excited," Musgrove said. "This is my Opening Day. You prepare to go on a certain date and things get set back. You have to turn it off and turn it back on. I've capitalized on the extra time to work on a few things. I feel healthy and I'm ready to get out there.
"I get the butterflies every time, so it's nothing new. Obviously, the first one is a little extra. Those feelings from last year are still very fresh for me. Mentally, physically, I feel like I'm ready to go."
Because of the fractured toe, Musgrove had no in-game practice with the pitch clock during spring training.
"I spent a lot of time focusing on the pitch clock, especially facing a team like Arizona," Musgrove said of his down time. "They're one of the best running teams in the game. I try to use the clock and use it to my favor, holding the runner, trying to mix things up as best I can. It's a good test for my first one out."
--Field Level Media