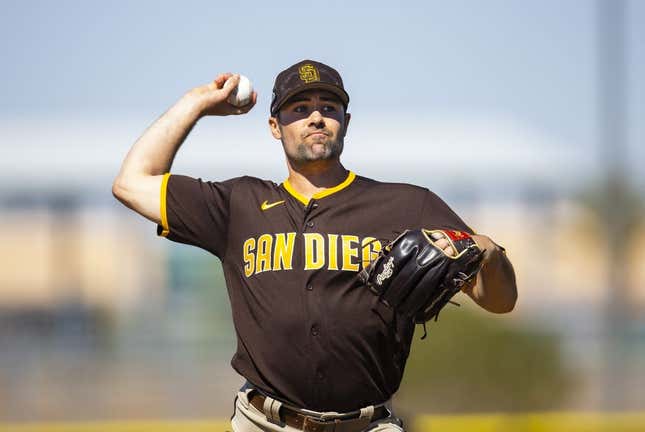 There's been a recurring theme for the San Diego Padres this season
Every time they seem set to get on a roll, something happens.
Over their past two games, the Padres have 23 runs on 26 hits and have gone 11-for-24 with runners in scoring position -- putting them into position to equal their season-long winning streak (three games) Saturday night when they face the visiting Washington Nationals in the middle game of a three-game series
Is Texas or Florida State a bigger national title contender? | Agree to Disagree
And what happens? Michael Wacha.
The National League's Pitcher of the Month in May, Wacha is 5-1 with a 1.14 ERA, a 0.813 WHIP and a .152 opponents' batting average over his past nine starts. However, he will miss Saturday's scheduled start against the Nationals with fatigue of his pitching (right) shoulder
Instead, the Padres will send right-handed knuckleballer Matt Waldron to the mound to make his MLB debut against Nationals right-hander Josiah Gray (4-6, 3.64 ERA)
The 26-year-old Waldron wasn't exactly dominating at Triple-A El Paso. He was 1-6 with a 7.02 ERA and a 1.650 WHIP in 14 appearances (12 starts), striking out 75 in 66 2/3 innings. But he was scheduled to start for El Paso on Friday, meaning a Saturday start in San Diego gives him an extra day's rest.
Of course, the Padres hope this is a spot start for Waldron and that Wacha will return for his next scheduled start
"I'm confident about that," Padres manager Bob Melvin said Friday when announcing the Waldron-for-Wacha switch
"Wacha has a little bit of a history with the shoulder, and that's one of the reasons why we're being protective," Melvin said. "He's as good as any pitcher in the National League. We've been pretty good about getting our guys extra rest, whether it's using the sixth man or off days for extra days.
"It's been four days' rest here recently. We wanted to make sure we're not pushing too hard with Wacha. More than anything, if he's feeling a little fatigue, that's not something we want to mess around with as well as he's pitched and as durable as he's been for us."
What Melvin hopes for Saturday is more of the past two days from the Padres' offense against a Washington team that is 4-15 in June -- and the fact that the Nationals' hitters aren't used to seeing a knuckleballer
Along with announcing the Waldron start, Melvin committed Gary Sanchez to catching him.
"It's a new look and, well, we've seen it done to us before," Melvin said. "It's the reverse to where there is unfamiliarity with some of the pitches. There is a challenge involved with catching the knuckleball. I have caught a knuckleballer. It wasn't my favorite thing to do."
Gray, 25, has struggled in three of his past four starts -- giving up two homers and at least four runs in each of the three games. He is 0-1 in four June starts with a 6.04 ERA.
"His stuff is good," Nationals manager Dave Martinez said. "He's had problems at times finishing hitters off when he's ahead in the count ... like a home run on an 0-and-2 pitch in his last start.
That happened Monday, when he allowed six runs on nine hits in five innings in a loss to the St. Louis Cardinals.
Gray's only start against the Padres came last August when he gave up one run on a solo homer over five innings but didn't get a decision
--Field Level Media