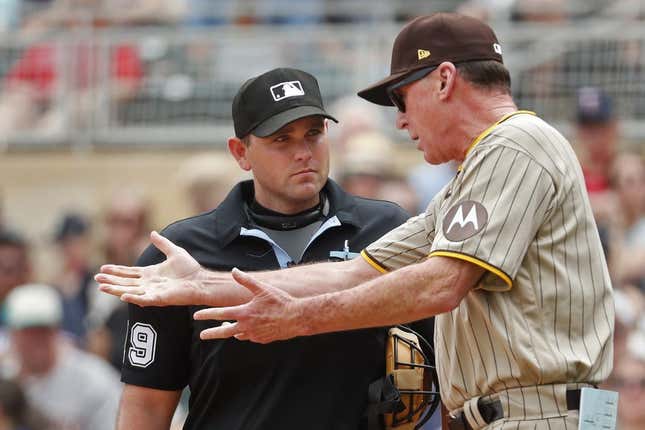 The reeling San Diego Padres are desperately in need of a jump start
Enter the Kansas City Royals
The Padres return home Monday night riding a five-game losing streak that climaxed over the weekend with a three-game sweep at the hands of the Dodgers in Los Angeles. Overall, the Padres have lost seven of their last eight games -- dropping San Diego four games below .500 at the quarter-mark of the season
Does Jimmy Butler have the best NBA Finals origin story? | Agree to Disagree
And Sunday, the Padres got shut out for the sixth time this season, one shy of the league-worst New York Mets
The start of the season has become something of an embarrassment for a Padres team carrying the high expectations of a $292 million salary. Yes, they have four proven stars at the top of the order in Fernando Tatis Jr., Juan Soto, Manny Machado and Xander Bogaerts and proven designated hitters in the right/left tandem of Nelson Cruz and Matt Carpenter. But they are also last in the major leagues with a Mendoza-line batting average with runners in scoring position
After Sunday's loss at Dodger Stadium - capping a series in which the Padres scored four runs in the three losses -- Padres manager Bob Melvin discussed the plight of the Padres
"It doesn't look good when you don't get any hits," said Melvin. "We haven't been able to sustain it. Until we sustain it, we're not the team we expected to be. The offense has not taken hold with any consistency. It's time to get home and regroup."
And what better team to "regroup" against than the Royals, who at 12-30 have the second-worst record in the major leagues. Actually, the three-game series against the Royals represents the possible opening of a window of opportunity for San Diego. After closing the six-game homestand with three against the Red Sox, the Padres hit the road for a nine-game trip to Washington (last in the National League East), the New York Yankees (fourth in the American League East) and Miami (also below .500)
The Royals-Padres series starts Monday night with Kansas City's Brad Keller (3-3, 4.31 ERA) going against San Diego's Michael Wacha (3-1, 4.82) in a match of right-handers
Before being swept by the Brewers over the weekend in a three-game series in Milwaukee, the Royals had won four of five games against the A's and White Sox
"We've been playing better," said Royals manager Matt Quatraro. "We've got a lot of younger players who are still finding their way. I see improvement.
The 6-foot-5, 27-year-old Keller has a 1.765 WHIP and a .266 opponents' batting average going into his ninth start of the season. Keller has given up nine runs (eight earned) on 20 hits and 13 walks with nine strikeouts over 14 2/3 innings his past three starts. He has given up a league-worst 32 walks in 39 2/3 innings this season with a poor 0.91-to-one strikeout to walk ratio. He has worked one inning across two previous appearances against the Padres, allowing a run on four hits and two walks with one strikeout
"It's command with Brad," said Quatraro. "He depends on his breaking ball a lot. When he has it working, he's got the weapons."
Wacha will be making his eighth start for the Padres and has a 1.339 WHIP and a .257 opponents' batting average. Over his last three starts, Wacha has given up four runs on nine hits and six walks in 17 innings for a 2.12 ERA and a 0.882 WHIP. Wacha is 3-2 lifetime in 10 games (nine starts) against the Royals with a 3.51 ERA, a 1.119 WHIP and a .255 OBA
--Field Level Media