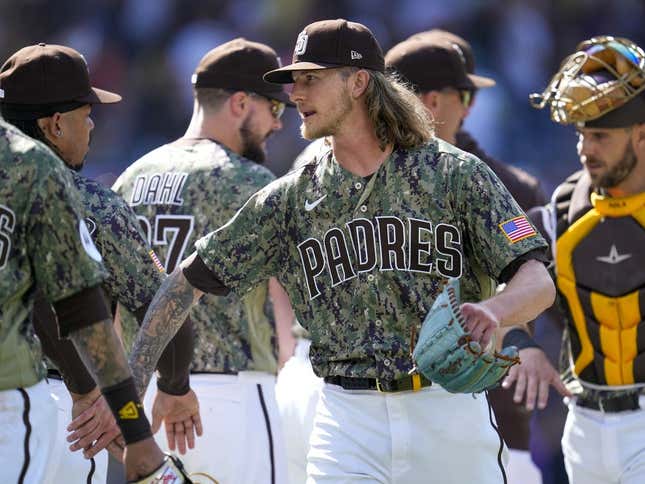 One could say the San Diego Padres reached the playoffs last season with an assist of sorts from the Arizona Diamondbacks
Aaron Rodgers should go full Joe Namath | Comedian Bert Kreischer
The Padres won 14 of the 19 meetings with the Diamondbacks in 2022, finishing the season series with three straight wins with the final wild-card berths on the line
During the winter meetings, Diamondbacks manager Torey Lovullo said the key to Arizona's recent improvement is to improve its record against its National League West rivals. He joked about it again recently, saying: "The Dodgers and Padres are in a different classification, right?
Then the Diamondbacks opened the season by splitting a four-game series at Dodger Stadium. Now they come to San Diego for a pair of games -- beginning on Monday -- before playing their season home opener on Thursday against the Dodgers
"A good start is important for us," Lovullo said Sunday after the Diamondbacks defeated the Dodgers 2-1 to earn the split. "Six straight games on the road before the home opener makes it a bit tougher.
Under the new "balanced" schedule this season, division opponents play one another just 13 times in a full season.
But the Padres and Diamondbacks will deploying a fifth starter Monday night in a matchup of Arizona's Ryne Nelson and the Padres' Ryan Weathers, which could favor the visitors if last September carries over
Nelson, Arizona's second-round pick in the 2019 draft, tied two franchise records when he made his debut against the Padres last Sept. 5. He shut out the Padres on four hits and no walks with seven strikeouts over seven innings. It tied the team's records for longest shutout outing and strikeouts in a debut and earned Nelson his first major-league win
Yes, the Padres evened the score against Nelson on Sept. 18 at Chase Field, scoring four runs (three earned) on three hits -- including two homers -- and four walks to tag him with the loss
Overall, Nelson was 1-1 with a 1.47 ERA and a 0.82 WHIP in three starts last season.
Nelson, 25, had a 7.53 ERA over five spring starts and wasn't named the No. 5 starter until the Diamondbacks were breaking camp
Weathers, who spent the entire 2022 season at Triple-A save for one emergency start for the Padres, had a 4.91 ERA this spring. While his spot in the rotation likely will disappear once Yu Darvish and Joe Musgrove are ready, Weathers could become the long man in the bullpen
After a fast start in 2021, Weathers has struggled. He is 4-7 in 31 major-league appearances (19 starts) with a 5.49 ERA. He has allowed 107 hits in 98 1/3 innings with 75 strikeouts.
"Ryan came to camp with a different attitude this spring," Padres manager Bob Melvin said of the team's first-round pick (seventh overall) in the 2018 draft
"He knew he was going to have to earn it. He came in ready to compete and he battled. There was a veteran-type reaction when I told him he made the Opening Day roster and would be starting the fifth game. He is still a very young player."
Weathers, 23, is 0-1 with a 6.75 ERA in four career appearances (two starts) against Arizona.
--Field Level Media