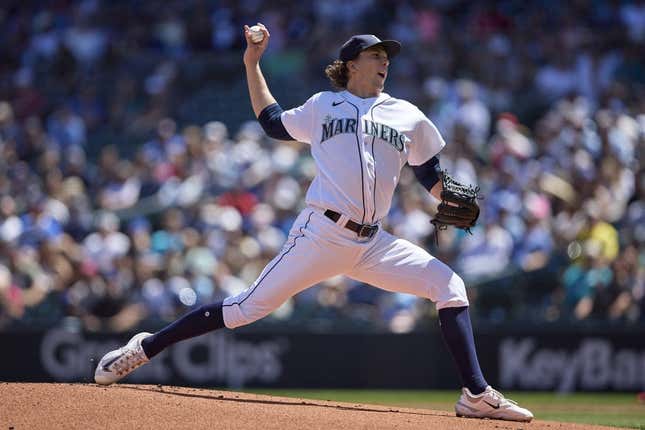 Nick Martinez has made 83 starts among his 183 major league appearances
So the right-hander shouldn't be fazed when he takes the mound for the San Diego Padres on Tuesday night in Seattle
How running an NFL team is like running a restaurant | Chef Emeril Lagasse
Martinez will fill in for the ailing Joe Musgrove, who will be shut down for at least the next three weeks with inflammation in his right shoulder capsule, in the opener of a two-game interleague series against the streaking Mariners
When Martinez re-signed with the Padres in the offseason, it was to be in the rotation
After making four starts to begin the year, the last of which Martinez threw seven shutout innings against Atlanta, he shifted to the back end of the bullpen because of injuries to Robert Suarez and Drew Pomeranz
"Yeah, I like to start," said Martinez, who turned 33 on Saturday. "But I like to win more.
Martinez has shown he's able to seamlessly move between the rotation and bullpen. He made a spot start last Wednesday in an 11-1 victory at Colorado, pitching three scoreless innings of one-hit ball, then came out of the bullpen Saturday against the visiting Los Angeles Dodgers, throwing two scoreless innings to allow the Padres to put together a late rally for an 8-3 win
"It's very unique," Padres manager Bob Melvin said of Martinez's ability to thrive in either role. "A lot of guys really struggle with that. I've had guys in the past that have. You can use it as an excuse, too. ... He doesn't get caught up in that. He just goes out there and pitches, and he does it at a high level whether he's starting or whether he's relieving.
Martinez (5-4, 3.68 ERA) will try to help the Padres snap a two-game losing streak. They're still in the National League's playoff race, but need to pass four teams to gain the third and final wild-card berth. Martinez is 0-3 with a 5.20 ERA in six career appearances against Seattle, including four starts
The Padres lost 13-7 to the visiting Dodgers on Monday despite catcher Luis Campusano going 4-for-4 with two homers and four RBIs
The Mariners, who have won five in a row and 10 of their past 12 to close the gap on Toronto for the American League's third and final wild-card berth, had Monday off after a 3-2 victory in 10 innings Sunday against the Los Angeles Angels in Anaheim, Calif
"We're playing great baseball," said reliever Tayler Saucedo, who earned the victory Sunday. "All we're trying to do is go out there and win a series and chip away at this thing.
Right-hander Logan Gilbert (9-5, 3.86) is scheduled to start Tuesday against the Padres. Gilbert has won his past four decisions, though he didn't get one Wednesday in a 6-3 victory against Boston, despite allowing just three runs on five hits over six innings. Gilbert is 2-1 with a 1.56 ERA in three career starts against San Diego. He beat the Padres 4-1 on June 6 in San Diego, limiting them to one run on three hits in seven innings, with two walks and six strikeouts
--Field Level Medi