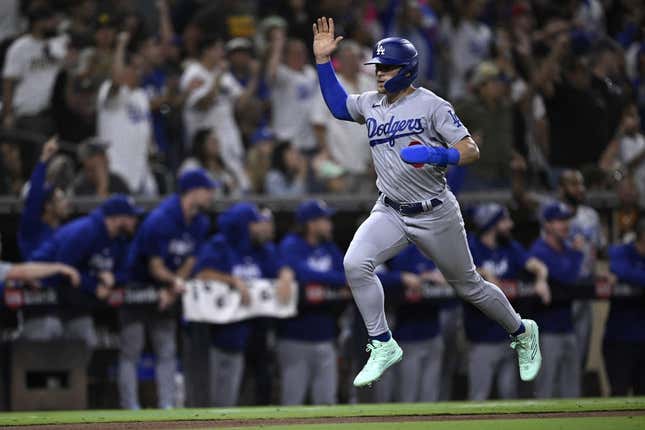 The San Diego Padres suffered two big losses on Friday -- starting pitcher Joe Musgrove for at least three weeks and a 10-5 game to the Los Angeles Dodgers after leading 3-2 going into the eighth
How running an NFL team is like running a restaurant | Chef Emeril Lagasse
Both were blows to the Padres' flagging playoff hopes
A win Friday would have gotten the Padres back to .500 and within three games of the last wild-card position in the National League. They'll try again Saturday night in San Diego for a win against Los Angeles, which is victorious in six of the seven games between the NL West rivals this season
An MRI showed that Musgrove (10-3, 3.05 ERA) has inflammation in his right shoulder capsule. Doctors believe his condition can be treated with rest and not surgery, San Diego general manager A.J. Preller said Friday
Still, the Padres are scrambling to complete a rotation. Right-hander Michael Wacha remains on the injured list, although the Padres believe he could return within the next week
Left-hander Blake Snell (8-8, 2.50 ERA) is scheduled to start for the Padres on Saturday night. The Dodgers, who have won four straight games, are expected to counter with right-hander Michael Grove (2-3, 6.75)
In the wake of the Musgrove news, the Padres announced that 43-year-old Rich Hill will make his Padres debut Sunday. But manager Bob Melvin also hinted that Nick Martinez could return to the rotation, especially if Wacha's timeline is delayed
"Anything is possible in the rotation," Melvin said. "Right now, we'll see how Wacha does. He's pitching Saturday night in Salt Lake (for Triple-A El Paso). So if he throws 50, 60 pitches and does well, we're looking for him to return. We know we can start Nick Martinez any time. He pitched two out of three or three out of four before the day off. He's open for anything. Nick is a nice resource to have.
Late Friday night, Melvin was left to talk about how the Padres turned a 3-2 lead into a 10-5 loss in a span of two innings
"It's another one of those games where we were on the verge," he said
But one team's collapse is another team's comeback
The Dodgers scored five times in the eighth inning and three in the ninth. The eighth-inning outburst included back-to-back RBI walks to Chris Taylor and J.D. Martinez after Jason Heyward was intentionally walked to load the bases with two outs
"I thought those were two outstanding innings," said Dodgers manager Dave Roberts after 11 of the 17 Dodgers going to the plate in the eighth and ninth reached base
"We had good at-bats after good at-bats," Roberts continued. "We didn't take ourselves out of those innings.
The Dodgers go into Saturday night's game riding a six-game winning streak against the Padres, which might be why Roberts could be looking to Grove, who gave up eight runs on 10 hits and a walk with 10 strikeouts in six innings in a 9-0 loss to the Cincinnati Reds on Sunday
The 26-year-old Grove, the Dodgers' second-round pick in the 2018 draft, has yet to face the Padres. He was at Triple-A Oklahoma City when the Dodgers played the Padres on back-to-back weekends in early May
Meanwhile, Snell has allowed as many as two runs in a game only once in 13 starts dating to May 25. Snell opposed the Dodgers twice earlier in the season, giving up four runs on five hits and seven walks with 10 strikeouts in 10 innings. He was the losing pitcher in both games
--Field Level Medi