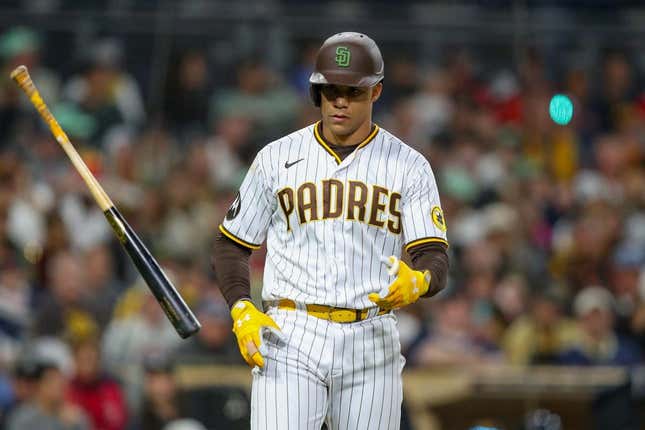 Here's a combination of disturbing facts to ponder before Sunday's game against the Boston Red Sox if you are a fan of the spiraling San Diego Padres
How running an NFL team is like running a restaurant | Chef Emeril Lagasse
Padres starting pitchers have given up four or more runs in four straight games and six of the past seven. The Padres have scored a total of 10 runs in those four games, all losses. They have dropped eight of their past nine and 11 of their past 12
Now, here's the silver lining.
On Monday, in his most recent start, right-hander Michael Wacha allowed one hit in seven shutout innings. He issued one walk with 11 strikeouts. And he didn't allow a hit until Kansas City's Michael Massey -- the last hitter Wacha faced -- opened the eighth with a line-drive single to right ending the no-hit bid.
On Sunday, Wacha (4-1, 4.06 ERA) starts the finale of a disastrous Padres homestand against a Boston team for which he was 11-2 last season with a 3.32 ERA in 23 starts
And as if to rub salt in the wounds, the Red Sox will counter with 37-year-old right-hander Corey Kluber (2-5, 6.41)
Kluber was originally a fourth-round draft pick of the Padres in 2007 and quickly became a top prospect. But on July 31, 2010, the Padres sent Kluber to Cleveland in a three-way trade that brought outfielder Ryan Ludwick to San Diego. Kluber won two Cy Young Awards with Cleveland. Ludwick hit .228 with 17 homers and 90 RBIs in 160 games with the Padres
Padres fans still talk about the Kluber-for-Ludwig trade. Maybe a Wacha win Sunday would reduce some of the sting of 2010 as well as the latest loss of 2023, a 4-2 decision to the Red Sox on Saturday. A three-run home run in the second inning by Enmanuel Valdez off Padres starter Joe Musgrove was all the offense Boston would need
"Joe made one bad pitch and it beat us," Padres manager Bob Melvin said Saturday night after the team's slide escalated
The Padres had only three hits Saturday. They were 0-for-6 with runners in scoring position and are 0-9 for the two games against Boston, lowering their MLB-worst RISP average for the season to .191
They did have two homers Saturday as Juan Soto and Fernando Tatis Jr. hit solo shots. But Padres infielders Ha-Seong Kim and Jake Cronenworth both failed to make tags. Although the plays were ruled outs, both were reversed on appeals by Boston manager Alex Cora -- and both runners scored, accounting for half the Boston runs
Now it's Sunday and the Padres are facing a sweep and a potential 1-5 homestand. Overall, they are 11-15 at home
For Kluber, the Padres offensive woes represent an opportunity to turn a corner. Over his three starts in May, Kluber has given up 10 runs on 19 hits and seven walks in 15 1/3 innings for a 5.87 ERA
"His command wasn't sharp, there was a lot of traffic, but he battled and gave us five innings," Cora said after Kluber's most recent start against the Cardinals last Sunday, a 9-1 loss.
For Wacha and Kluber, it's the ninth start of the season for each. Wacha has worked 44 1/3 innings and the Padres are 6-2 when he pitches. Kluber has worked 39 1/3 innings and the Red Sox are 3-5 in his starts
--Field Level Media