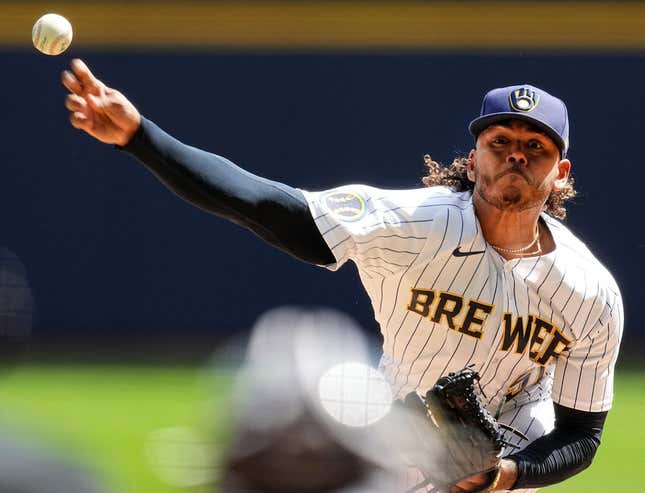 Halfway through their four-game series with the Milwaukee Brewers, the host San Diego Padres are still struggling at the plate, having posted just five runs on 15 hits
Aaron Rodgers should go full Joe Namath | Comedian Bert Kreischer
On Saturday, they will face one of the Brewers' toughest starters in Freddy Peralta in what could be a strong, early-season matchup of right-handed pitchers
Peralta (2-0, 0.75 ERA) will be pitted against the Padres' Seth Lugo (2-0, 1.38)
Peralta, 26, has allowed one run on six hits and six walks with 14 strikeouts over 12 innings in his first two starts for a 1.000 WHIP and a .146 opponents' batting average.
Lugo, 33, has given up two runs on nine hits and four walks with 12 strikeouts over 13 innings in his first two starts for a 1.000 WHIP and a .196 opponents' batting average.
Coming off their biggest offensive game of the season, the key for the Brewers remains pitching
"Anybody on their pitching staff right now is a challenge," Padres manager Bob Melvin said Friday. "They have a sub-3 earned run average. Their numbers pitching-wise ... across the league, across the board ... are the best in baseball. That can be contagious. Not only that, the Brewers identify pitching really well
"But we feel we have a lineup that can stack up against anybody when we're doing things right," Melvin added.
Things are going right, however.
"While they are a hot team right now, our offense has not been consistent enough to get on a roll," said Melvin.
And now comes Peralta in a nationally televised game.
"He's been dialed in," said Brewers manager Craig Counsell. "He's feeling great. In a way, we're not surprised. When he's doing well, this is what it looks like. Clearly, he's in a better position than he was in the second half of last season.
After being an All-Star in 2021, Peralta struggled with shoulder fatigue last summer and finished the season with a 4-4 record with a 3.58 ERA in 18 games (17 starts).
In his All-Star season, Peralta was 10-5 with a 2.81 ERA, a 0.970 WHIP and a .165 opponents' batting average in 28 games (27 starts).
Saturday will be Peralta's first career start against the Padres. In three career relief appearances covering 5 2/3 scoreless innings, Peralta has held the Padres to one hit and one walk with nine strikeouts
Meanwhile, Lugo spent seven seasons with the Mets before signing with the Padres as a free agent in December with the promise of getting a shot at winning a spot in the Padres' rotation. At the moment, he's the Padres' most effective starter
Lugo will be making his first career start against the Brewers after eight relief appearances. He is 1-0 record with a 0.69 ERA in those games, giving up one run on nine hits and one walk with 16 strikeouts in 13 innings
--Field Level Media