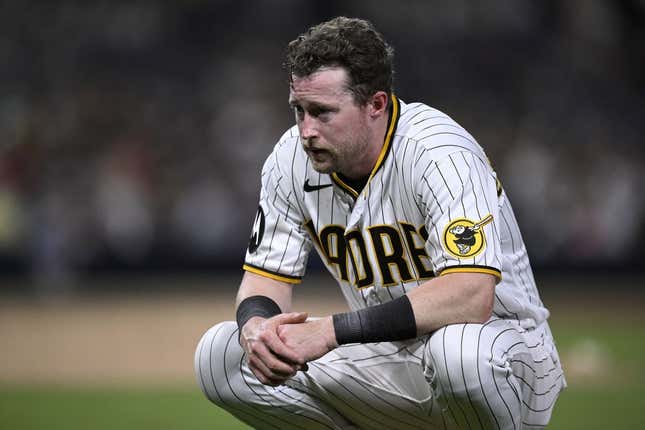 A pair of teams that were swept in doubleheaders ahead of Hurricane Hilary's arrival in Southern California will meet on Monday night when the Miami Marlins open a three-game series with the host San Diego Padres.
How running an NFL team is like running a restaurant | Chef Emeril Lagasse
Both teams saw their National League wild-card chances take a hit on Saturday, as Miami dropped a pair of games to the Los Angeles Dodgers by identical 3-1 scores while the Padres lost 6-4 in the opener of their twin bill against the Arizona Diamondbacks before falling 8-1 in Game 2.
The losses had more of an impact on San Diego, which now sits six games back of the Chicago Cubs, who currently hold the third and final NL wild-card spot.
"You don't explain it," Padres manager Bob Melvin said. "You just have to keep digging. We put ourselves in this position and continue to. You just keep fighting until you get it right.
"(Saturday) was a long, miserable day. Certainly not what we expected, what we wanted, but we have to push forward."
Meanwhile, the Marlins are still well within striking distance of Chicago but find themselves in a three-way tie for the No. 4 spot in the wild-card race. Miami is just one game back of the Cubs, but so are the Cincinnati Reds and Arizona.
Despite the sour results on Saturday, Marlins manager Skip Schumaker is still confident in his team.
"It's tough holding on to a 1-0 lead against the Dodgers," Schumaker said. "That was a tough loss. Overall, I like the way we're playing. We just ran into two well-pitched games and didn't have much going."
Luckily for Miami, the series against Los Angeles wasn't a complete a waste. The Marlins clubbed five homers on Friday in an 11-3 victory that snapped the Dodgers' season-best, 11-game winning streak.
But now Miami has lost four of its last five games. The Marlins will turn to right-hander Johnny Cueto (0-3, 5.57 ERA) on Monday in an attempt to break out of their rut.
Although it's left-hander Jesus Luzardo's turn in the rotation, Miami is going with Cueto because of Luzardo's recent struggles. Over his last four starts, Luzardo has gone 0-3 with a 10.59 ERA. He has allowed 21 runs (20 earned) in 17 innings in that span and hasn't worked more than 5 1/3 innings during any of those outings.
Cueto, meanwhile, is coming off last Tuesday's no-decision against the Houston Astros. He allowed five runs (four earned) on seven hits in 5 1/3 innings while walking two and striking out three.
In 19 career starts against the Padres, Cueto is 8-7 with a 4.00 ERA. However, he hasn't faced San Diego since 2021.
The Padres will counter with left-hander Blake Snell (10-8, 2.65), who has been phenomenal for the better part of the last three months.
Since May 25, Snell is 9-2 with a 1.29 ERA across 16 starts, including his most recent outing against Baltimore on Wednesday. He allowed two runs on three hits in six innings against the Orioles, walking two and fanning five to earn the win.
Snell is 2-1 with a 3.00 ERA in five career starts versus Miami.
—Field Level Media