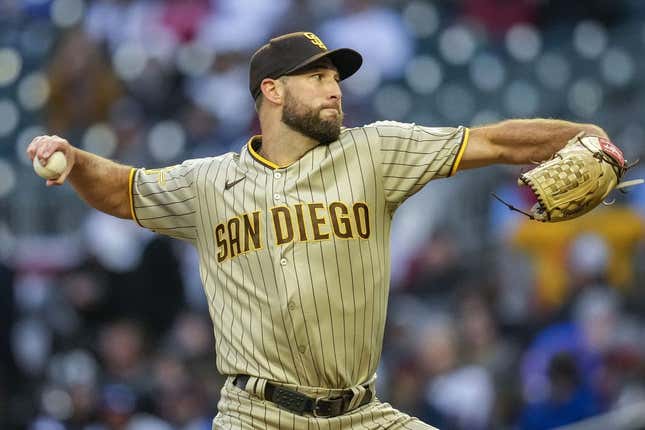 After multiple rounds of musical starters, Milwaukee left-hander Eric Lauer will get the ball on Friday night as the visiting Brewers seek a second straight win over the San Diego Padres
Lauer at one point was scheduled to pitch Thursday's series opener. So was Freddy Peralta. As was "to be announced." Finally, Colin Rea was flown in from Triple-A Nashville to make the start -- which worked out in the Brewers' 4-3, 10-inning win
"We decided we wanted to push everyone back a day," Brewers manager Craig Counsell said, explaining why it took so long to settle on a Thursday starter. "I think giving everyone an extra day will pay dividends.
So Lauer (1-1, 7.71 ERA) will go Friday night against Padres right-hander Michael Wacha (2-0, 3.00), who has never lost a decision to the Brewers. Peralta will start on Saturday, and Wade Miley will pitch for Milwaukee in the series finale on Sunday
As for the slumping Padres, the identity of the opposing starting pitcher doesn't matter much at the moment. Against Rea, who spent two years in Japan since his last major league appearance, the Padres got two hits in 5 2/3 innings, and San Diego managed just six hits in the game
Over the past four games, the Padres have only nine runs on 23 hits
"We have more in this offensively," San Diego manager Bob Melvin said. "We have the ability to at times blow teams out. We've had other games where we haven't been so good. It's still early in the season. We have a deep lineup. We're going to score runs."
The Padres also are looking to April 20, when Fernando Tatis Jr. is eligible to return from his 80-game PED suspension. Tatis is warming up at Triple-A El Paso, where Thursday night he went 5-for-6 with three homers, a double and eight RBIs to raise his average to .478 (11-for-23) while his OPS climbed to 1.693
Lauer will make his first start at Petco Park since the Padres traded him and infielder Luis Urias to the Brewers for center fielder Trent Grisham and pitcher Zach Davies on Nov. 27, 2019. Lauer has made two starts against his former team in Milwaukee, one in each of the past two seasons, and he gave up four runs (two earned) in 12 innings without getting a decision
This season, he threw 5 1/3 innings of two-run ball to beat the Chicago Cubs on April 2, then was tagged for six runs in four innings during a loss to the St. Louis Cardinals on Saturday.
Wacha, in his first two outings with the Padres, defeated the Colorado Rockies on April 1 and the Atlanta Braves on Saturday. He has given up four runs on eight hits and four walks with 12 strikeouts in 12 innings
Wacha and the Brewers are not strangers, as they were division rivals when he pitched for the Cardinals. He is 6-0 lifetime against Milwaukee with a 3.38 ERA, a 1.393 WHIP and a .268 opponents' batting average in 15 games (14 starts)
--Field Level Media