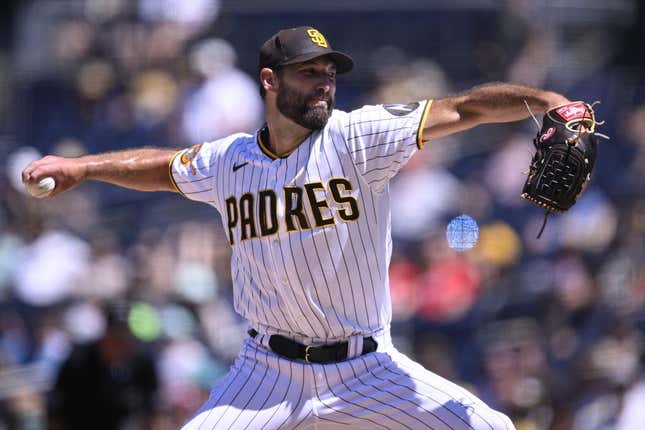 San Diego Padres right-hander Michael Wacha will be out to add to an impressive season when the 32-year-old takes the mound on the road Tuesday night against the Los Angeles Dodgers.
How running an NFL team is like running a restaurant | Chef Emeril Lagasse
Wacha (11-3, 2.99 ERA) will return to the mound after one of his shorter outings of the season — four innings Wednesday in a loss to the Philadelphia Phillies. He gave up three runs on seven hits on 94 pitches.
He should have some offensive momentum behind him after the Padres (68-77) rallied from an early five-run deficit to earn an 11-8 victory over the Dodgers (87-56) on Monday. Manny Machado hit two home runs and Juan Soto had a go-ahead, three-run shot in the ninth, punctuating it with a bat flip high into the sky.
"I haven't seen that in a while, and I have said often that we have the ability to do that," Padres manager Bob Melvin said after his team improved to 2-2 at the start of a nine-game trip. "It was nice to be able to come back after being down big. A three-spot in the sixth was huge; obviously, four in the ninth and Juan's swing was even bigger."
Since returning Aug. 15 from an injury (shoulder inflammation), Wacha is 3-1 with a 3.51 ERA in five starts.
In his first season in a Padres uniform, Wacha has yet to face the Dodgers, whom he has struggled against in his career. In eight starts against Los Angeles, he is 1-5 with a 7.54 ERA.
The Dodgers will counter on Tuesday with right-hander Lance Lynn (10-11, 6.09), whose home-run issues are ongoing.
Lynn arrived to the Dodgers leading the majors in home runs allowed when he was a member of the Chicago White Sox. In his second, third and fourth starts with his new club, Lynn gave up just one home run combined. But over the last two starts, he has allowed six combined.
In consecutive losses to the Atlanta Braves and Miami Marlins, Lynn pitched to a 15.00 ERA. He has given up a career-high 40 homers this season.
"I mean, once you go over 30, who gives a (expletive)?" Lynn said. "You're just trying to make pitches. It's just kind of one of those years where they come in bunches. It's been the worst of my career home-run-wise. Bad pitch selection, bad execution. Everything that could go bad has gone bad when they've had the opportunity."
Dodgers manager Dave Roberts indicated that Lynn is still in line for one of three rotation spots in a likely National League Division Series appearance. But that strategy also is a product of starter Julio Urias being suspended indefinitely amid domestic-violence accusations and Tony Gonsolin lost for the season with an elbow injury.
There also is a mechanical issue with veteran left-hander Clayton Kershaw, who has not pitched in a week and is not scheduled to return to the mound until Saturday. Kershaw says he is not injured. Roberts first referenced an injury and now says, 'The arm's working well."
The Dodgers should get some answers to their rotation questions by the end of the week and whether a rotation of Bobby Miller, Kershaw and Lynn would be viable for the NLDS.
"What we do with these guys still remains to be determined, as well as with all of the other guys, but in theory, yeah," Roberts said about the initial playoff rotation plan.
—Field Level Media