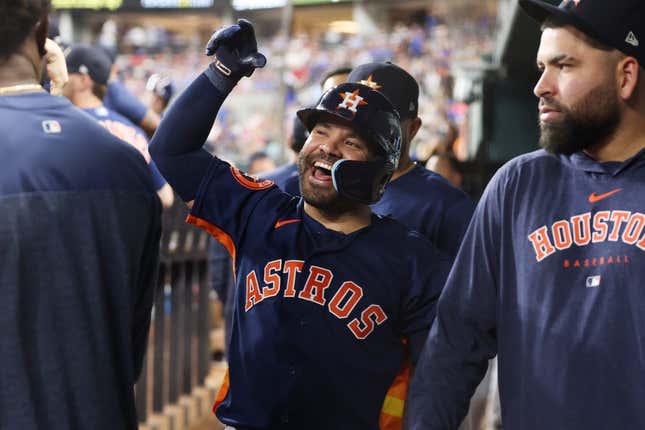 For an Astros organization that has won two World Series while making six consecutive appearances in the American League Championship Series, messages are usually reserved for the postseason.
Is Texas or Florida State a bigger national title contender? | Agree to Disagree
However, what Houston (80-61) did while sweeping a three-game road series against the Texas Rangers this week resonated. The Astros, set to host the San Diego Padres in a three-game interleague series starting Friday, outscored Texas 39-10 and clubbed 16 home runs during the series while securing sole possession of first place in the AL West for the first time this season.
The Astros have work remaining to earn a postseason berth, let alone another division title. But their throttling of the Rangers proved what they are capable of when clicking on all cylinders.
"It's a very dynamic lineup," Astros right-hander Justin Verlander said. "We said before we got (to Arlington) it's time to go. We've got to show up. It's not quite playoff baseball, but it's time to bring that energy and focus, and you see what these guys are capable of when they do that."
Rookie right-hander Hunter Brown (10-10, 4.53 ERA) is the scheduled starter for the Astros in the series opener. He has alternated wins and losses over his last six appearances (five starts), pitching to a 3-3 record with a 6.31 ERA and .952 opponent OPS. After starting the season 5-1, Brown has lost nine of 14 decisions with a 5.56 ERA plus 15 home runs allowed over 15 starts.
Brown will make his first career start against the Padres.
Left-hander Blake Snell (12-9, 2.50) has the starting assignment for the Padres on Friday. Snell, a leading candidate for the National League Cy Young Award, paces the NL in ERA, opponent batting average (.191) and opponent OPS (.611), and ranks second in both swing and miss percentage (37.0) and strikeouts (201). However, he also has recorded the most walks (89) and wild pitches (12) in the majors. Snell is 6-1 with a 2.11 ERA over his last eight starts.
Snell is 2-3 with a 6.11 ERA over seven career starts against the Astros. In his last appearance against Houston on May 30, 2021, Snell surrendered seven runs on five hits and three walks with three strikeouts over three innings in a 7-4 road loss.
The Padres (66-75) capped a stretch of 34 games since Aug. 1 with a 5-1 home loss to the Philadelphia Phillies on Wednesday. Their miserable season continued unabated when catcher Gary Sanchez suffered a right wrist fracture after he was hit by a pitch in the eighth inning. Sanchez had 19 homers and a 117 OPS+ over 72 games and will miss the rest of the season.
If the New York Mets are, relative to preseason expectations, the most disappointing team in the majors, the Padres aren't too far behind. San Diego playing out the string with its star-studded roster seemed an impossibility before the start of this season.
"We're just trying to win games right now," Padres manager Bob Melvin said. "There was a time when you're looking at the standings and we feel like one day it's kind of a roller coaster. So we're not comparing ourselves to anybody right now, we're just trying to win games."
—Field Level Media