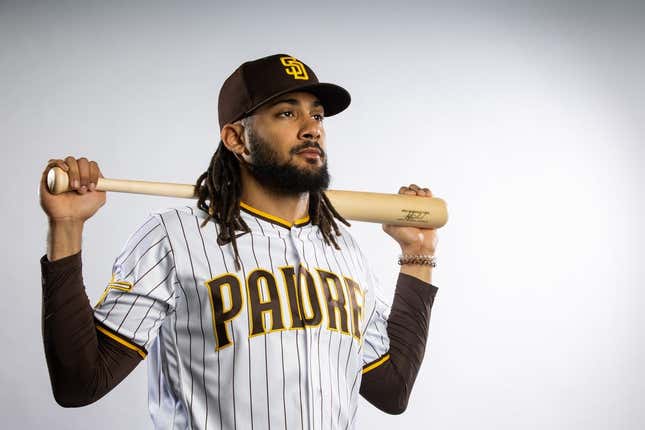 Fernando Tatis Jr. will be in the San Diego Padres' lineup on Tuesday and play in his first game since 2021.
Manager Bob Melvin confirmed Monday that Tatis was set for his spring debut in Scottsdale, Ariz., against the San Francisco Giants, his first time in uniform since the end of the 2021 season.
Tatis missed the 2022 season and is being eased into the lineup following surgeries to his left wrist and shoulder. Tatis isn't available to play for the Padres until he completes a suspension for performance-enhancing drugs. His first eligible date to return from the ban is April 20.
"I'm ready, I'm definitely ready," Tatis said.
Melvin said he wants Tatis to "just play" and not worry about details beyond his natural instincts during spring games.
"What we're trying to do is take him through all the possible scenarios that he might see in a game and let him know: 'How does that feel?' Then, once he gets in a game, it's going to be pretty instinctual for him," Melvin said.
Tatis turned 24 in January. Primarily a shortstop in 2021, Tatis was third in National League MVP voting and hit .282 with 42 home runs and 97 RBIs. He was fourth with a .975 OPS, but a lot has changed while he was healing from injury and serving a suspension.
The Padres signed Xander Bogaerts (11 years, $280M) to play shortstop in the offseason and the lineup also includes 2022 trade deadline acquisition Juan Soto, who was second in 2021 MVP voting and runner-up to Bryce Harper.
Tatis could bat leadoff or anywhere "1 through 4," according to Melvin. To begin spring, he's being used mostly in the outfield.
"I miss the game so much," Tatis said. "Like I mentioned, I haven't been on the field for a very long time. I just want to be out there with the boys, inside that lineup."
--Field Level Media