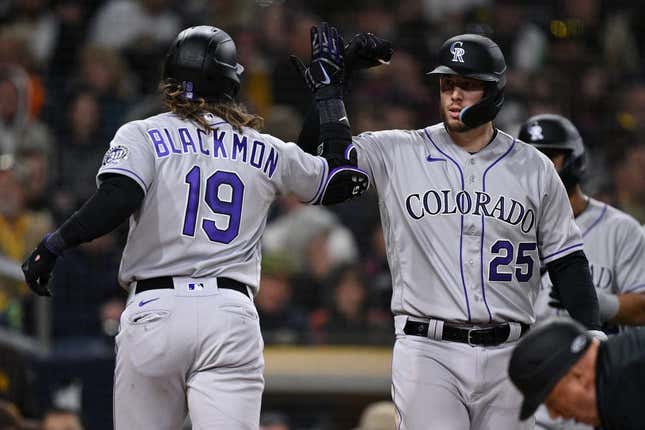 Late in spring training, both Charlie Blackmon and C.J. Cron -- the heart of the Colorado Rockies' lineup -- were struggling with back issues
Bass' ERA stinks, but not compared to who he is off the mound | Worst of the Week Countdown
Now they are being a pain in the neck to the Padres. And San Diego will have to deal with them again Sunday to close a season-opening four-game series at home
Three games into the season, Cron is 7-for-11 against the Padres with two doubles, three home runs and seven RBIs. Over his past 22 games against the Padres, Cron is hitting .402 (35-for-87) with eight doubles, eight homers and 24 RBIs
Blackmon is off to a 6-for-12 start against the Padres this season with four runs, two doubles, a homer and three RBIs -- giving him a .311 career batting average against the Padres with 34 homers and 99 RBIs in 176 games
"It's a big boost to start the season with C.J. and Charlie both healthy," said manager Bud Black, whose Rockies go into Sunday afternoon's series finale with a shot at winning three of four games. "It's really helped us get off to a good start.
The Rockies will send left-hander Austin Gomber to the mound Sunday to face Padres right-hander Seth Lugo
Colorado will hope San Diego State's last-shot, 72-71 victory over Florida Atlantic in the NCAA Tournament's Final Four Saturday won't have any carry-over. Black, Rockies third baseman Alan Trejo and head trainer Keith Dugger are all graduates of San Diego State. Gomber pitched three seasons for Florida Atlantic from 2012-14
Gomber split the 2022 season between the Rockies' rotation and bullpen. He finished 5-7 with a 5.56 ERA in 33 appearances (17 starts). In three games (one start) against the Padres, Gomber was 1-0 with a 0.96 ERA -- allowing one earned run on seven hits and three walks with seven strikeouts in 9 1/3 innings. He is 2-1 with a 2.01 ERA in nine career games (five starts) against the Padres
"I like the mix of pitches," Black said of Gomber. "He's a four-pitch pitcher and he has to use them all. I like the way he uses his changeup."
While a split with the Rockies at home is not what the Padres expected or wanted to start the season, it is a needed consolation prize Sunday
"It was nice to get that first win Saturday," Padres manager Bob Melvin said. "We were more patient at the plate, what, eight walks, Saturday. We worked some counts. Usually when you lose the first two games, you're a little eager.
The Padres signed the 33-year-old Lugo as a free agent last December. After posting a 3-2 record with a 3.60 ERA in 62 games out of the New York Mets' bullpen last season, Lugo signed with San Diego in hopes of landing a spot in what the Padres eventually expect to be a six-man rotation
But with Joe Musgrove opening the season on the injured list with a fractured big toe on his left foot, and Yu Darvish not stretched out after being used sparingly by champion Japan in the World Baseball Classic, Lugo opens the season in the rotation.
"I like the attitude Seth has," Melvin said. "He wants to start. But he knows he could be in the bullpen. He's let us know he'll do anything to help us to get to the ultimate goal."
Lugo had a solid spring, with a 2.70 ERA in 23 1/3 innings over six starts.
--Field Level Media