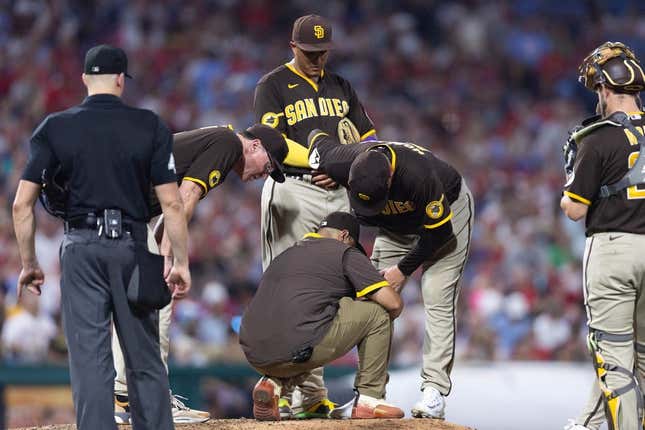 The San Diego Padres are bringing knuckleballer Matt Waldron back into the fold, as the team recalled the righty Sunday while also designating left-hander Adrian Morejon for the 15-day injured list with right knee inflammation
How running an NFL team is like running a restaurant | Chef Emeril Lagasse
Morejon suffered a knee strain in the sixth inning of the second game of a doubleheader against the Philadelphia Phillies on Saturday. The Padres lost 9-4
San Diego also returned left-hander Ryan Weathers to Triple-A El Paso on Sunday after he served as the team's 27th man for the doubleheader.
Waldron, 26, has a 3.86 ERA and 0-1 record in one career appearance in the majors, a 2-0 loss to the Washington Nationals on June 24.
His stats with Triple-A El Paso this season have been shaky, as he has gone 1-6 with a 7.02 ERA over 14 appearances (12 starts).
Morejon, 24, has a 7.00 ERA over eight games (one start) this season.
Over five seasons with the Padres, Morejon is 7-3 with a 5.28 ERA (75 innings pitched)
--Field Level Media