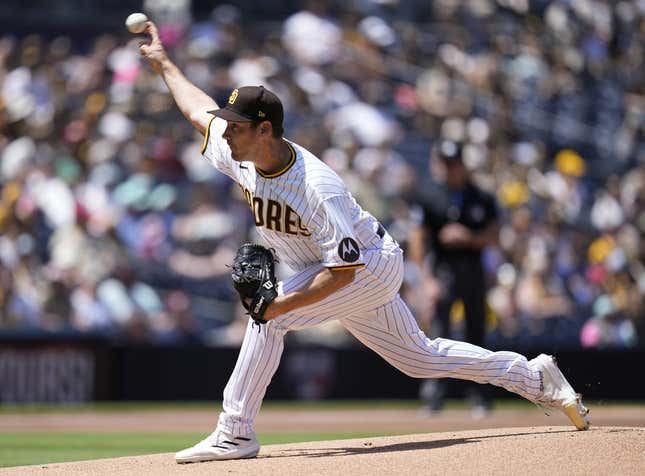 Seth Lugo will be battling for his spot in San Diego's rotation when he starts for the Padres against the Arizona Diamondbacks on Friday night in Phoenix
Does Jimmy Butler have the best NBA Finals origin story? | Agree to Disagree
Ace Zac Gallen (2-1, 3.33 ERA) is set to start for Arizona.
The Padres have Joe Musgrove returning to the starting staff on Saturday after missing the beginning of the season due to a broken left big toe. In addition, starting Monday, San Diego will have four days off in a span of 15 days and seven days off over the next five-plus weeks
Musgrove gives the Padres seven starters. And while manager Bob Melvin used a six-man rotation through large parts of 2022 and at the start of this season, he plans to pare the crew back to a five-man rotation
"We won't be having starters work once a week," Melvin said.
That means two starters will be moving to the bullpen, and the logical choices might be Lugo and Ryan Weathers.
However, Lugo is 2-0 with a 2.70 ERA through three starts this year, and Weathers is 1-1 with a 2.81 ERA in three starts. Those are the two lowest ERAs in the Padres' rotation
Musgrove hasn't appeared in a major league game since getting hurt early in spring training. Yu Darvish has a 3.44 ERA, although he is rounding into form after seeing less than expected action in the World Baseball Classic. Nick Martinez, who swung between the rotation and the bullpen in 2022, has a 4.01 ERA. Then there are Blake Snell at 6.00 and Michael Wacha at 7.08 after four starts apiece.
Despite their poor stats, Snell and Wacha likely will retain their rotation spots with Musgrove and Darvish. Weathers probably will fill a long role in the bullpen or return to Triple-A, so Lugo or Martinez could be vying for the final starting job. Both have been successful out of the bullpen in the past.
"We haven't made any decisions," Melvin said.
The Padres are 3-0 in Lugo's starts this season. He has worked 16 2/3 innings, giving up five runs on 17 hits and five walks with 17 strikeouts for a 1.320 WHIP. Lugo, 33, signed with the Padres in December because he thought he'd have a better shot at a rotation spot than he had with the New York Mets, his team for the previous eight seasons
Meanwhile, there's no question about Gallen's status. The right-hander is the Diamondbacks' ace. And his status soared even higher Thursday when the Diamondbacks swallowed more than $34 million by designating Madison Bumgarner for assignment
Over his three-plus seasons in Arizona, Bumgarner went 15-39 with a 5.23 ERA in 69 starts.
Gallen, 27, has allowed no runs on five hits and a walk with 18 strikeouts over 13 2/3 innings in his past two starts after giving up five runs in each of his first two outings.
His scoreless-innings streak began after he yielded five runs (four earned) on seven hits and a walk with three strikeouts in six innings at San Diego on April 4. Following that outing, during which Nelson Cruz and Xander Bogaerts took him deep, Gallen returned to some basics.
"The main thing for me is delivery, timing, tempo, rhythm ... all the typical cliches of pitching," Gallen said after his second straight scoreless outing. "Those things are huge for me."
Arizona manager Torey Lovullo said, "In his last two games, it's been all about Zac Gallen."
--Field Level Media