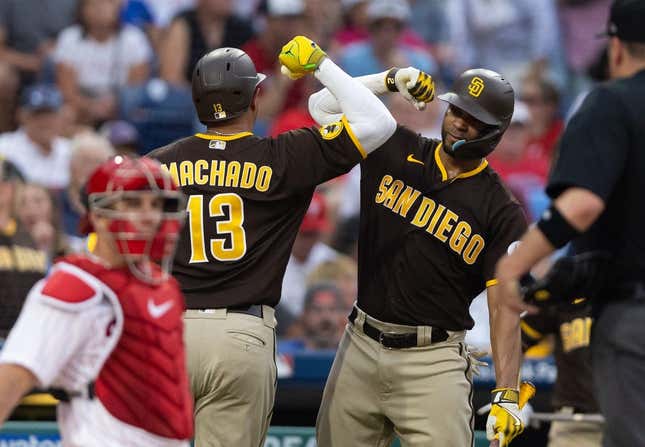 Despite a huge payroll and a roster built for another deep playoff run, the San Diego Padres have scuffled for much of this season
How running an NFL team is like running a restaurant | Chef Emeril Lagasse
However, the Padres won their final two games before the All-Star break and picked up on Friday with a resounding 8-3 victory over the host Philadelphia Phillies
The Padres, who lost to the Phillies in last season's National League Championship Series, will take Philadelphia in a day-night doubleheader on Saturday
"You just have to try to win each game," Padres manager Bob Melvin said. "That's all we're worried about right now.
Fernando Tatis Jr., Juan Soto, Gary Sanchez and Manny Machado homered on Friday, and San Diego compiled 11 hits and drew four walks.
"The offense seems to be doing really well through the break," Melvin said.
Machado added, "We're passing the baton and having quality at-bats."
Left-handers Blake Snell (6-7, 2.85 ERA) and Ryan Weathers (1-5, 6.08) are expected to be the Padres' starters in the doubleheader
Snell is 0-3 with a 4.91 ERA in four career starts covering 18 1/3 innings against the Phillies
Weathers has appeared in one career game against the Phillies. He took the loss after giving up three runs on five hits in two innings in August 2021
"You can get (confidence) from results," Weathers said. "But I just feel like in this game, if you're too results-oriented, it's gonna be tough. You're gonna have up and down confidence. It's just kind of finding the confidence from the workweek and building up to the start day. That's where I've slowly found confidence in my everyday plan."
The Phillies dropped their final two games before the All-Star break against the host Miami Marlins and came out flat in their return home against the Padres
Philadelphia went 1-for-7 with runners in scoring position with nine left on base.
J.T. Realmuto hit a solo home run and Alec Bohm added two hits and an RBI. Down 8-1 entering the bottom of the ninth, Philadelphia scored twice and loaded the bases, forcing the Padres to use closer Josh Hader for the final two outs
"We didn't swing the bats early," Phillies manager Rob Thomson said. "It looked like (our hitters) were a little rusty. The ninth inning was encouraging.
Bryce Harper, who hit a pennant-winning, two-run homer in Game 5 of the NLCS, went 1-for-4 on Friday. Thomson said that Harper won't be inserted at first base in this series.
The Phillies are scheduled to hand the ball to Taijuan Walker (10-3, 4.02 ERA) and Ranger Suarez (2-4, 3.77) in the twin bill
Suarez is 2-0 with a 1.64 ERA in four career games (one start) against the Padres
Walker is 3-3 with a 2.61 ERA in seven career starts against San Diego.
After signing a four-year, $72 million free agent contract to join the Phillies in the offseason, Walker sputtered through mid-May. However, he has since morphed into one of the top pitchers in the National League. He is 7-1 with a 2.13 ERA in his past nine outings
In his latest start, against the Tampa Bay Rays on July 5, Walker allowed five hits and four runs in seven innings. It was good enough to for him to win his sixth consecutive start.
"It really could have been a lot worse," Walker said after the outing. "Five walks, something I don't want to do, especially against a team that can score at will. Towards the end of the game, I was able to put those shutdown innings up."
--Field Level Media