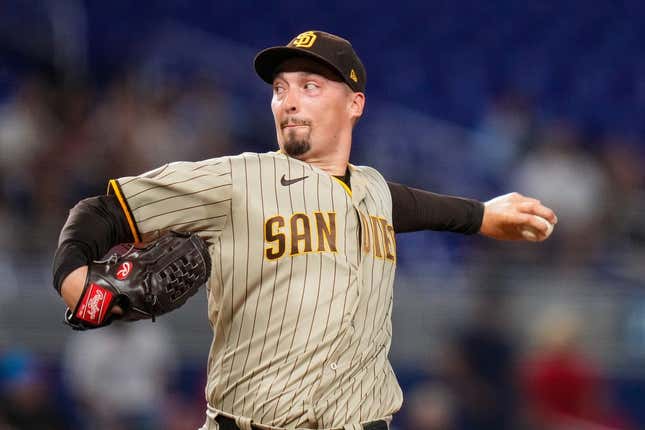 The San Diego Padres came to Denver looking for momentum, and they will leave for home with plenty of it if they complete a three-game sweep against the Colorado Rockies on Sunday
How running an NFL team is like running a restaurant | Chef Emeril Lagasse
The Padres squeaked out a 3-2 win Saturday with a big hit by Fernando Tatis Jr. and stellar defense from Manny Machado, who made a sliding, bobbling catch in foul territory in the eighth inning
San Diego will send left-hander Blake Snell (2-6, 4.06 ERA) to the mound on Sunday while the Rockies will counter with right-hander Dinelson Lamet (1-3, 12.42)
Snell will face the Rockies for the 11th time in his career; he is 3-2 with a 4.41 ERA in 10 starts against them, with half of those starts coming at Coors Field
Snell hopes he can get the kind of run support the Padres received in Friday night's 9-6 win. They hit five home runs, one by Gary Sanchez, who is the latest shrewd acquisition by San Diego
The Padres have built their team through smart trades and free-agent signings to boast one of the more potent lineups in the National League. They acquired Tatis and Juan Soto with trades and signed Machado in 2019, and now the signing of Sanchez is looking pretty good, too
San Diego picked him up on May 29, just four days after he was designated for assignment by the New York Mets. He has five home runs in 11 games for the Padres and came through with an RBI single on Saturday
The 30-year-old catcher is showing he still has plenty to offer.
"A lot of times, you get a little confidence again and you do some things you've done in the past," Padres manager Bob Melvin said of Sanchez. "He's still a young man for what he does. Each and every game he has like this, you'll see some of the potential he's always had.
If Sanchez is in the lineup on Sunday, he will face Lamet. The struggling pitcher will make his third start since moving into the rotation.
Lamet will make his fourth career appearance and first start against his former team. He has a 6.00 ERA without recording a decision in his previous three meetings with the Padres
The Rockies are mired in another slump after losing their sixth straight game on Saturday. They have four losing streaks of four or more games this year, but one silver lining from the most recent setback is catcher Elias Diaz is fine after leaving the game
Diaz took a foul ball off the mask in the eighth inning -- the second straight game it has happened -- but won't miss time.
Manager Bud Black said Diaz passed the concussion protocols.
Colorado's other bright spot was Nolan Jones hitting his third homer of the season. Jones was called up May 26 and has taken advantage of his opportunity while several players are on the injured list.
"Because of no C.J. Cron, no Kris Bryant, no Brendan Rodgers, there are opportunities coming for a lot of guys," Black said. " ... It's good to see a guy like Nolan take this opportunity and be a contributor."
--Field Level Media