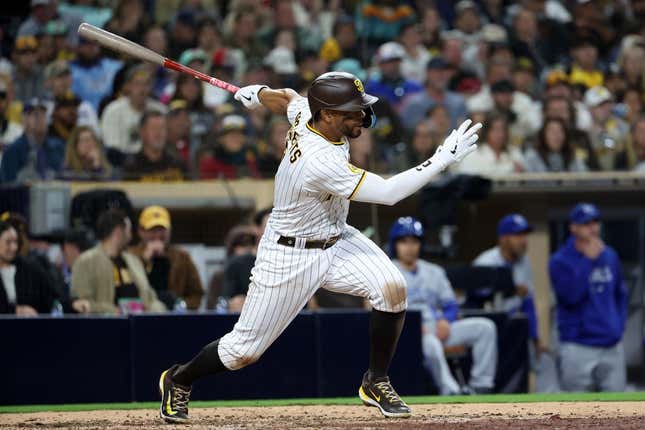 Ever since the 2023 schedule was announced, the San Diego Padres were looking forward to this weekend
Can the Florida Panthers make a comeback? | Agree to Disagree
The anticipation stemmed from the Padres signing free agent shortstop Xander Bogaerts, a former Boston Red Sox All-Star, to an 11-year, $280 million contract in December
The Padres boldly underlined May 19-21. Boston would be coming to San Diego for a three-game series against a vastly improved Padres team that featured Bogaerts
This was going to be a milestone weekend for the Padres, just like their initial two matchups against the rival Los Angeles Dodgers. But something went awry en route to May 19 ... May 6-17
The Padres go into the Red Sox series having lost nine of their past 11 games to slip to fourth in the National League West. And that was not the worst news of the week. It turns out that Manny Machado sustained a hairline fracture in his left hand on Monday night when he was hit by a pitch
Padres manager Bob Melvin was not saying how long Machado would be sidelined. He said it was not an injured-list question ... at the moment. But Machado wasn't available to pinch-hit Wednesday when San Diego thrice had the bases loaded with less than two outs en route to a second straight one-run loss to the visiting Kansas City Royals
Now the Red Sox come to San Diego. And while Boston is in last place in the American League East, its record is four games better than the Padres' thanks to two straight wins against the visiting Seattle Mariners earlier in the week
The Padres are struggling to hit in the clutch, possessing a majors-worst .196 average with runners in scoring position, while the Red Sox's .294 average in those situations ranks second behind the Texas Rangers' .331 mark
Against the Mariners on Wednesday, Boston sent eight hitters to plate in the first and 10 in the second while jumping out to a 9-0 lead.
The series starts Friday night with a match of left-handers -- Boston's James Paxton (0-0, 3.60 ERA) against the Padres' Blake Snell (1-5, 4.61)
Paxton will be making just his second start for the Red Sox since Boston signed him as a free agent on Dec. 1, 2021. Paxton, 34, had Tommy John elbow reconstruction surgery in 2022
He made his Red Sox debut last Friday against the St. Louis Cardinals, giving up two runs on four hits and a walk with nine strikeouts in five innings
"That was good to see for James and all of us," Boston manager Alex Cora said. "Not only that, our pitching is getting healthier. Our roster is getting healthier. It's encouraging."
A healthy, contributing Paxton could be a huge plus for the Red Sox
"Last year he was very close to contributing and it didn't happen," said Cora. "Obviously in the offseason, I think a lot of people thought he was going to opt out. And he decided to stay here.
"We've been working hard. It was a weird offseason, spring training, too, but we're happy for him that he's ready to perform. It's about him being able to compete at this level, that's the most important thing. And then after that, we'll go from there."
Paxton has three made career starts against the Padres, going 1-1 with a 1.98 ERA, a 1.527 WHIP and a .241 opponents' batting average
Perhaps the best thing going for Paxton on Friday is the state of the Padres' offense and the probability that Machado won't be in the starting lineup
"He can't grip a bat," Padres manager Bob Melvin said Wednesday. "He can't swing until he can grip.
Melvin offered no timeline when that might happen.
San Diego has scored 30 runs in its past 11 games. And six days after Melvin addressed the team, stressing the need to play with more urgency, the Padres held a closed-door, players-only meeting on Wednesday
The Padres are 1-7 in Snell's starts to date, but he has a 3.54 ERA in his past five outings. In 12 career starts vs. the Red Sox, Snell is 7-3 with a 2.59 ERA
Bogaerts enters the matchup with his ex-teammates sporting a .275/.374/.431 batting line with six homers and 16 RBIs in 43 games.
--Field Level Media