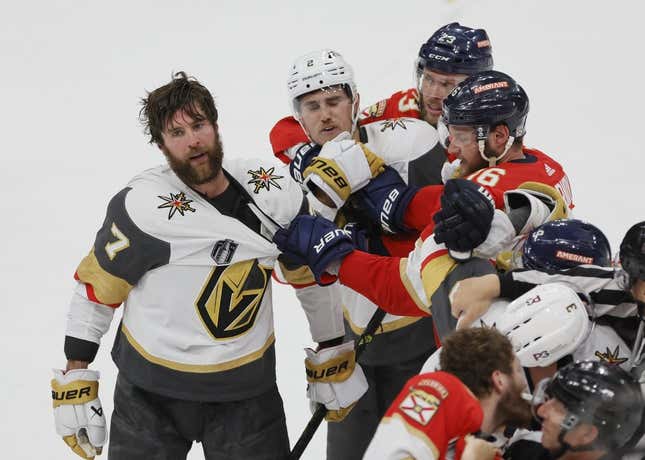 The Florida Panthers were in a deep hole seven weeks ago but found the will and determination to claw their way out and extend their season
How running an NFL team is like running a restaurant | Chef Emeril Lagasse
Now, the Panthers will try to find another route back from a 3-1 series deficit when they meet the Vegas Golden Knights in Game 5 of the Stanley Cup Final on Tuesday night in Las Vegas
Florida trailed 3-1 to the top-seeded Boston Bruins in the opening round of the Eastern Conference playoffs before rallying to win the series, beginning with an overtime road win in Game 5.
"I believe, fully, we've earned the right to play our best hockey in a difficult situation," said Panthers coach Paul Maurice. "All we want to do is get this thing back (to Florida). It's not the series, it's not a game, it's just get this thing back home and give our fans another look at us.
Vegas will have plenty of motivation to raise its first Stanley Cup in team history, especially inside its energized home arena.
"It's a different game than the other ones," Vegas forward Chandler Stephenson said. "A lot more emotion, a lot more of everything."
The Golden Knights dominated the Panthers in the first two games of the series in Las Vegas, outscoring them 12-4 before Florida tied the score late in regulation of Game 3 and won in overtime
The Panthers were unable to ride that momentum into Game 4 back on their home ice in Sunrise, Fla., however, falling behind 3-0 before ultimately losing 3-2 on Saturday
That put the Golden Knights in a position they've never experienced before, one game from winning their first Stanley Cup
Vegas reached the Stanley Cup Finals five years ago in its inaugural season, but lost the series 4-1 to the Washington Capitals.
"Everybody is going to be into it," Stephenson said of Game 5. "The emotion is going to be high. Adrenaline. Everything. The biggest thing is to just be composed. Shift by shift. It's all the cliches, but I feel confident."
The Golden Knights will continue to lean on goalie Adin Hill, who has allowed two goals in regulation in each of the first four games of the series
Jonathan Marchessault, who scored 30 goals for the Panthers in the 2016-17 season before they lost him to the Golden Knights in the expansion draft, has 24 points (13 goals, 11 assists) in 21 playoff game
Stephenson (10) and William Karlsson (11) have also reached double figures in goals during this postseason for Vegas.
The Panthers will look for Matthew Tkachuk to give them some early momentum
Tkachuk has also tallied 24 points (11 goals, 13 assists) in 20 playoff games, including three goals and three assists in the final three games against the Bruins to lead the Florida comeback.
"You've got to win four," Florida center Aleksander Barkov said. "It's 3-1. I know they're one win away, we're three wins away, but all we can do is think about one game, bringing it back to Florida and that's our goal. That's what we want to do in Vegas, go there and try to win that game."
--Field Level Media