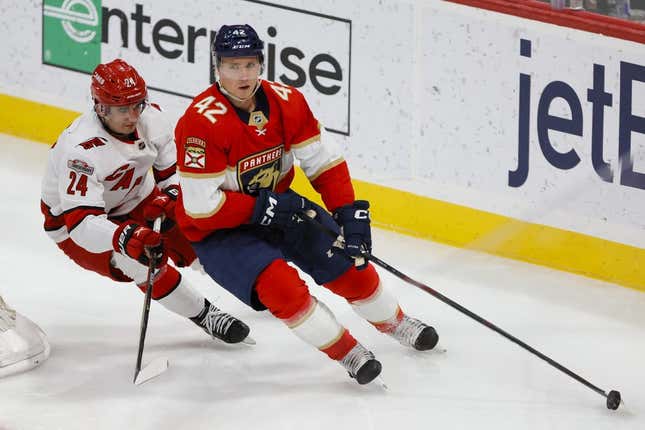 RALEIGH, N.C. -- Although the Florida Panthers and Carolina Hurricanes no longer compete in the same division, few introductions will be needed ahead of Game 1 of the Eastern Conference finals on Thursday in Raleigh, N.C
Bass' ERA stinks, but not compared to who he is off the mound | Worst of the Week Countdown
The storylines and connections between the teams are plentiful.
Florida has brothers Marc Staal and ex-Hurricanes standout Eric Staal. Their sibling, Jordan Staal, is captain for Carolina
"It's a part of playoff hockey," Jordan Staal said. "Someone's got to win and someone's got to lose."
Florida is coached by Paul Maurice, who has enjoyed two tours of duty as head coach of the Hurricanes
"It's a special place," Maurice said. "All three of my kids were born there, so we spent some time there. Then life happens. ... It'll be a great moment."
Panthers forward Zac Dalpe is a former Carolina player -- one of several player connections between the teams. Maurice was his coach for some of the time with the Hurricanes
This will be the first postseason meeting between the former Southeast Division rivals.
The Hurricanes have been off for a week since winning their second-round series in five games against the New Jersey Devils. It has been an awkward layoff for both teams. The Panthers eliminated the Toronto Maple Leafs on Friday night, also in a Game 5
"Once it gets going, things will get right back in the hamster wheel, and that's good," Hurricanes coach Rod Brind'Amour said. "We had (a break) last series, too, and it didn't seem to matter. We know what we have to do, they know what they have to do, and the team that gets to it earliest will have the most success in Game 1.
The Hurricanes expect a challenge from the Panthers, who entered the postseason as the No. 8 seed before posting upsets of the Presidents' Trophy-winning Boston Bruins and Maple Leafs
"They're fast, they have skill, and they're willing to grind," Carolina center Sebastian Aho said. "Those are the reasons they're still playing."
The Hurricanes last reached the conference finals in 2019
"We're close, but we're also only halfway," Carolina defenseman Jaccob Slavin said. "We've got eight wins and we've got eight more to go. It's a long path still."
Florida hasn't been to the conference finals since 1996, when it lost in the Stanley Cup Final to the Colorado Avalanche.
Maurice said he anticipates the teams will bring on some entertaining action.
"It'll be some exciting, fast hockey," Maurice said. "And it's nice when there's connections in your room to the place you're playing."
The Hurricanes appear to have the services of forward Teuvo Teravainen again after he underwent surgery for a broken hand sustained in the first round against the New York Islanders
"He has got to be able to be effective," Brind'Amour said.
Teravainen, who's a factor on power plays and penalty killing for Carolina, has left no doubt about his availability from his perspective.
"Whenever coach puts me out there, I'll be good," he said.
Carolina won two of three meetings with the Panthers during the regular season. That included the season finale at Florida that enabled the Hurricanes to wrap up the Metropolitan Division title and the No. 2 seed in the Eastern Conference
Game 2 is Saturday night.
--Bob Sutton, Field Level Media