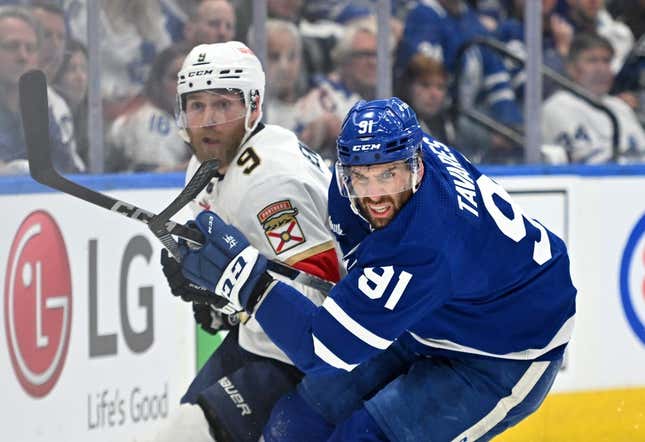 Nick Cousins scored at 15:32 of overtime and the visiting Florida Panthers defeated the Toronto Maple Leafs 3-2 Friday night to clinch their Eastern Conference second-round playoff series in five games
Chris Paul should ride the bench next season | Keep it a Buck(et)
Radko Gudas earned the assist on the second goal of the playoffs for Cousins, who made no mistake on his 21-foot wrist shot.
The Panthers advance to face the Carolina Hurricanes in the conference finals
Sergei Bobrovsky stopped 51 shots for Florida in a duel of goaltenders. Joseph Woll made 41 saves for Toronto.
The Maple Leafs overcame a 2-0 disadvantage to tie the game in the third period on William Nylander's goal
Toronto killed off a Florida power play in the overtime.
The Panthers, who upset the league-leading Boston Bruins in the first round, won all three games in Toronto during the best-of-seven series. The Maple Leafs' victory came in Game 4 on the road
Aaron Ekblad and Carter Verhaeghe each had a goal and an assist for Florida.
Morgan Rielly scored for the Maple Leafs
Nylander tied the game with his fourth goal of the playoffs on a 12-foot shot at 13:33 of the third period. John Tavares and TJ Brodie picked up assists.
Earlier, Ekblad netted his first of the playoffs on a 38-foot shot from the left circle during a power play at 3:31 of the first period. Gustav Forsling and Verhaeghe earned assists. Jake McCabe was off for high-sticking.
After taking the lead, Florida withstood two consecutive Toronto power plays.
Verhaeghe gave the Panthers a 2-0 lead at 16:18 of the first on a quick shot from the right circle off a pass by Anthony Duclair. It was his fifth goal of the playoffs. Ekblad also assisted
Toronto led 13-12 in shots on goal after one period.
Rielly's 60-foot shot was deflected by a Florida player past Bobrovsky for his fourth goal of the playoffs at 7:50 of the second period. Sam Lafferty and David Kampf earned assists.
Rielly thought he had tied the game at 17:11 of the second when the puck was jammed against Bobrovsky's skate on the goal line, but it was determined that the whistle had blown.
At 17:49 of the second, Toronto's Ryan O'Reilly had his tip hit the goal post.
Florida led 30-29 edge in shots on goal after two periods.
--Field Level Media