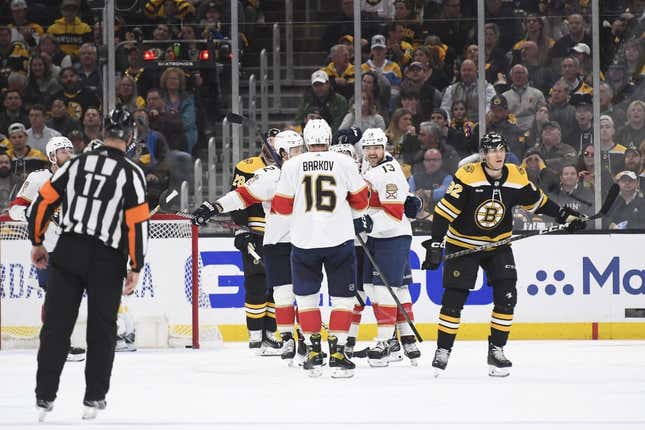 Matthew Tkachuk scored at 6:05 of overtime to lift the visiting Florida Panthers to a season-saving, 4-3 win over the Presidents' Trophy-winning Boston Bruins in Game 5 of their Eastern Conference first-round series on Wednesday
'Soccer fandom is full of gatekeepers' says Ted Lasso actor Brendan Hunt
The Panthers cut their deficit in the best-of-seven series to 3-2 heading to Game 6 on Friday in Sunrise, Fla
After Carter Verhaeghe picked off Boston goaltender Linus Ullmark's attempted clear from behind the net, the puck bounced off Ullmark's pads and onto the stick of Tkachuk for a backhanded, game-winning tally.
Tkachuk finished with a goal and an assist, and Anthony Duclair, Sam Bennett and Sam Reinhart scored in regulation for Florida. Verhaeghe logged three assists.
Bennett has recorded points in all four of his games in the series, scoring a goal in three of them.
Panthers goalie Sergei Bobrovsky made 44 saves in his second consecutive start
Brad Marchand had a goal and an assist while Patrice Bergeron and Taylor Hall also scored for the Bruins, who had a 47-25 shot advantage and finished 2-for-5 on the power play
Boston's Charlie McAvoy had two assists, and Ullmark made 21 saves.
Florida led 2-1 through two periods before the teams traded power-play goals in the first 5:14 of the third.
Hall scored his fifth goal in as many playoff games at 9:16, pulling a rebound out of traffic in the slot and ripping it off the crossbar to tie the game 3-3.
The Panthers also killed a too-many-men penalty in the last four minutes of regulation. Bobrovsky denied a Marchand breakaway attempt before the third-period buzzer
Florida's strong start included holding Boston without a shot on its first power play and taking the lead at 8:26 of the opening period. Off a Tyler Bertuzzi turnover, Duclair batted Verhaeghe's pass to score out of the air.
The Bruins tied the game with a man advantage 2:27 into the second. McAvoy made an incredible feed from the right point to Marchand, who corralled his own initial shot that sat loose
Boston had a dominant 18-8 shots edge in the second, but a late lapse allowed the visitors to take a 2-1 lead with 1:08 left. Bennett whipped home a shot from the slot after Verhaeghe won a puck battle and slipped the puck out of the corner.
The home team's onslaught continued with seven shots to begin the third, and Bergeron needed just six seconds of a power play to make it 2-2. At 4:33, the Boston captain deflected home Marchand's shot from above the left dot for his 50th career postseason goal.
Florida's power-play unit went to work and got the lead back when Reinhart buried a wrister in the slot off Tkachuk's feed at 5:14.
--Field Level Media