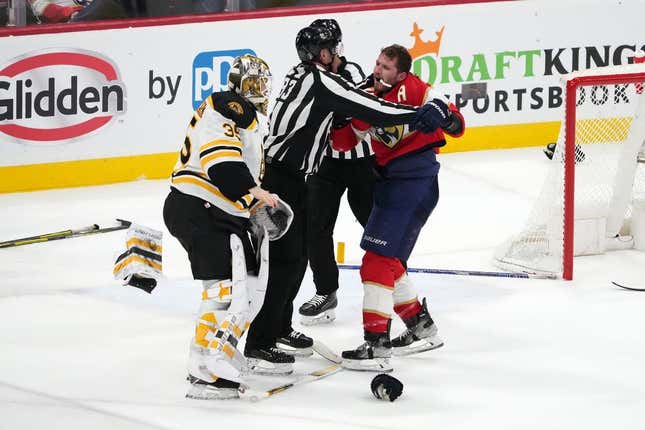 Florida Panthers winger Matthew Tkachuk was fined the maximum $5,000 on Monday morning for his crosscheck of Boston's Garnet Hathaway during Sunday's game
Tkachuk delivered the shot to Hathaway at the end of the first period and was given a 2-minute minor penalty to start the second period. The Bruins scored on that power play en route to a 6-2 victory to take a 3-1 lead in the best-of-seven Eastern Conference series.
Tkachuk later was given a game misconduct after getting in a shoving match with Bruins goalie Linus Ullmark with three minutes remaining in the game. Ullmark was also sent off after dropping his gloves and taking off his helmet in an effort to fight Tkachuk.
Jeremy Swayman played the final 3:11 in goal after Ullmark saved 41 of 43 shots.
Tkachuk posted a goal and assist Sunday, giving him five points (two goals, three assists) in the series.
Game 5 is Wednesday in Boston.
--Field Level Media