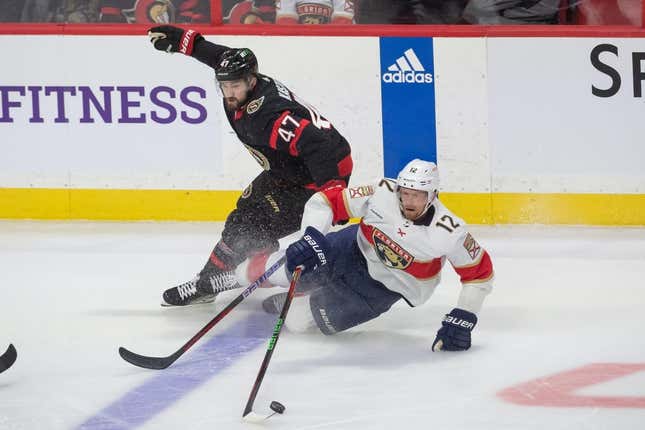 Alex Lyon is not just saving pucks -- he is saving the Florida Panthers' season
Lyon, 30, signed with the Panthers in July -- his third NHL franchise. Scheduled for minor league duty as the third goalie in Florida's pecking order, Lyon has had an unexpected run of success over the past week
With starter Sergei Bobrovsky out due to a non-COVID illness, Lyon has stepped in, going 4-0-0 with five goals allowed and a .959 save percentage during that span.
On Thursday night, the Panthers (40-31-7, 87 points) will try to keep their four-game win streak going as they play host to the Ottawa Senators (37-34-7, 81 points)
With four games left, the Panthers are in position for one of two Eastern Conference wild-card playoff spots, ahead of the New York Islanders (87 points but one less win) and the Pittsburgh Penguins (86 points)
Lyon is a big reason why the Panthers have made their recent surge. He had 39 saves on Tuesday as the Panthers rallied to beat the Buffalo Sabres 2-1
"I've played a lot of playoff hockey," said Lyon, referring to his work in the American Hockey League. "I've had a lot of experience, and that goes a long way."
Indeed, Lyon stopped all 18 high-danger shots he faced on Tuesday. He was also 30-for-30 on shots on goal while the teams were playing 5-on-5.
Besides Lyon, the Panthers have other positive trends, including ranking second in the NHL for most goals by defensemen with 49. Brandon Montour leads Panthers defensemen with 14 goals, followed by Aaron Ekblad (13) and Gustav Forsling (12)
Among the forwards, Florida's top goal-scorers are Carter Verhaeghe (40) and Matthew Tkachuk (39). Tkachuk has 103 points, which is one short of his career high set last season. Verhaeghe has already set his career highs in goals and points (70).
Meanwhile, Ottawa, which hasn't made the playoffs since 2016-2017, will enter Thursday on a three-game losing streak. Two of those losses came in overtime.
The Senators, 6-6 in overtimes this year, have been listed at a 99 percent likelihood to miss the playoffs again this year
Tim Stutzle leads Ottawa in goals (37) and assists (47). Brady Tkachuk -- brother of Florida's Matthew Tkachuk -- ranks second on the team in goals (35) and assists (44).
Four other Senators forwards have scored at least 20 goals: Claude Giroux (30); Alex DeBrincat (26); Drake Batherson (21); and rookie Shane Pinto (20)
In the nets, Ottawa has used seven different goalies this season, including Leevi Merilainen, who made 34 saves in his NHL debut on Tuesday in a 3-2 overtime loss at the Carolina Hurricanes.
"(Merilainen) deserved better," Brady Tkachuk said. "That's a hell of a start to a career."
Veteran Cam Talbot, 35, leads the Senators in starts (31) and wins (16-14-2). Backup Anton Forsberg (11-11-2) is out due to a knee injury, and that has opened the door for several rookies, including 6-foot-7 top prospect Mads Sogaard, a 22-year-old from Denmark
Sogaard is 7-6-2 this season with a 3.24 goals-against average.
--Field Level Media