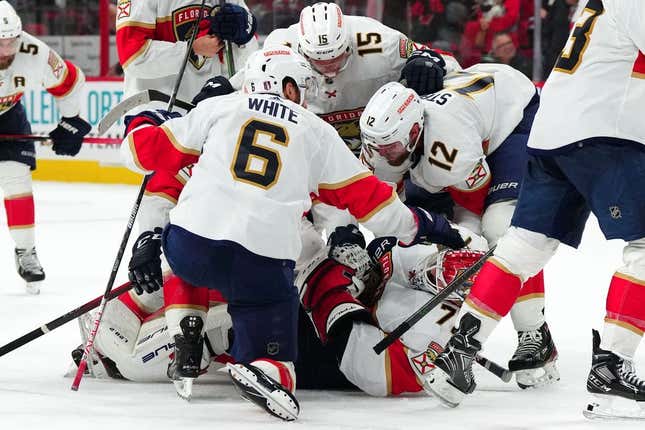 RALEIGH, N.C. -- Rest and recovery takes on new meaning for the Florida Panthers and Carolina Hurricanes, following a marathon opening game of the Eastern Conference final
Air Jordans are more American than McDonald's French fries | Deon Cole's Ultimate Sports Fantasy
The teams are set to lean on each other again after an epic beginning for Florida to the best-of-7 series.
"We have to be refocused and ready for Game 2," Panthers defenseman Radko Gudas said. "That's why we have the sports science guys.
The physical and emotional tolls expended Thursday night - and into Friday morning - are bound to factor into Saturday night's Game 2 as Carolina gets set to play host.
The Panthers took a 1-0 lead in the series on Matthew Tkachuk's goal with 12.7 seconds remaining in the fourth overtime. The game ended as the sixth-longest in NHL history
"That's a huge cost for both teams," Panthers coach Paul Maurice said. "It's a race to recover now.
The Hurricanes, who are 5-2 in home games this postseason, are bound to be under more stress as they covet a split of the first two games at home. And there's not much time to assess anything else
"It's going to be a quick turnaround, obviously," Hurricanes captain Jordan Staal said
The Hurricanes insist they will be able to wipe away the disappointment of the Game 1 result. They are trying to keep things in perspective
"It's just one game," Hurricanes coach Rod Brind'Amour said
While it counts as one in the series, the duration of Game 1 lasted more than two full regulation games.
Goalies Sergei Bobrovsky of Florida and Frederik Andersen of Carolina were the standouts in the opener. Their statuses for Game 2 will be monitored.
Brind'Amour said he would consider switching to Antti Raanta considering the workload endured by Andersen, whose 57 saves set a playoff franchise record.
"You have to," Brind'Amour said of a potential change in goal. "(Andersen) played the whole game, so that's a consideration."
Maurice said Bobrovsky is expected to be in the nets Saturday night.
Tops in terms of on-ice time among skaters were defensemen Brandon Montour (57:56) and Gustav Forsling (55:41) of Florida and defenseman Brent Burns (54.43) of Carolina.
"Both teams went through it, so both teams are feeling it," Hurricanes defenseman Brady Skjei said. "It's physically demanding. Mentally, too.
Limiting the 38-year-old Burns' ice time for Game 2 doesn't seem likely.
"If I even thought that, he'd punch me in the face," Brind'Amour said.
As much as the Panthers cherish the 1-0 series lead, they know once the puck drops Saturday night something new will be brewing
"The opportunity to grab momentum will be up for grabs," Maurice said.
The Hurricanes managed only the tying goal during a 14-2 edge in shots in the third period. Preventing Carolina from that form of dominance is something the Panthers realize needs to be altered
"We have to do things to keep them out of that rhythm," Maurice said. "They stretched us and they forechecked us at the same time, which is hard to do."
The Panthers have won seven of eight road games this postseason. The loss came in their playoff opener against the Boston Bruins on April 17
The Hurricanes had a seven-game winning streak in overtime playoff games end with their first such loss in an extra session since the first round in 2021
Carolina has a nine-game losing streak in the conference finals, picking up its last victory this late in the postseason in the 2006 Stanley Cup-winning effort. The Hurricanes were swept in the 2009 and 2019 conference finals
-- Bob Sutton, Field Level Media