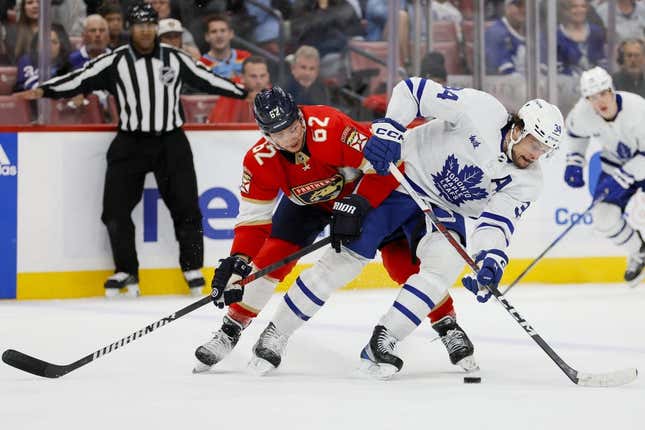 Few envisioned an Eastern Conference second-round matchup between the Toronto Maple Leafs and Florida Panthers
'Soccer fandom is full of gatekeepers' says Ted Lasso actor Brendan Hunt
The Maple Leafs hadn't won a playoff series in 19 years and the Panthers opened the postseason against the NHL's best team, but both pushed through those obstacles to advance to Game 1 on Tuesday night in Toronto
"It's been a long time coming," Toronto coach Sheldon Keefe said. "A long time coming for a lot of players in our room, a long time coming for myself, a long time coming for Leafs Nation."
The Maple Leafs advanced to the second round with a six-game win against the Tampa Bay Lightning, who had reached the Stanley Cup Finals the past three seasons, winning two Cups
"We can't be satisfied," Toronto forward Mitch Marner said. "There's a lot more ahead and we've got to be ready for it."
Florida's first-round victory was even more improbable, as the Panthers won their final three games against the Boston Bruins to take the series in seven games
The Bruins set NHL records during the regular season with 65 wins and 135 points.
"Let's be honest. Nobody in the whole world thought we were going to win this series except for the guys in (our) room," Panthers forward Matthew Tkachuk said. "So, it's a pretty cool feeling right now.
Florida and Toronto should be familiar with each other.
Not only do they both play in the Atlantic Division, but they met three times in the final three weeks of the regular season, with the Maple Leafs winning twice and dropping the other game in overtime
Toronto forward Auston Matthews has scored a goal in four straight games and comes into the series riding a six-game point streak (five goals, four assists). He has 22 points (13 goals, nine assists) in 22 career games against the Panthers
Morgan Rielly enters the series riding a five-game point streak (three goals, five assists), and owns 26 points (two goals, 24 assists) in 32 games against Florida.
"(The Maple Leafs) have some really elite players that can make plays, and they play the right way," Florida forward Carter Verhaeghe said. "They're a different team than they have been in years past, and it's going to be a good challenge for us.
Florida will be without a key player for at least the start of the series.
Panthers coach Paul Maurice announced on Monday that forward Ryan Lomberg is week-to-week with an upper-body injury. He was injured in Game 1 against the Bruins, played through it the next three games but sat out the final three against Boston
Lomberg had 12 goals and eight assists while playing all 82 games in the regular season.
Zac Dalpe filled in for Lomberg the final three games against the Bruins, but Givani Smith also remains on Florida's active roster and could also be an option against the Maple Leafs
The Panthers will continue to lean on Tkachuk, who was traded to Florida last summer from the Calgary Flames in a blockbuster deal that sent forward Jonathan Huberdeau and defenseman MacKenzie Weegar to Calgary
Tkachuk had 11 points (five goals, six assists) against the Bruins.
Meanwhile, the Flames fired his former coach, Darryl Sutter, on Monday after Calgary failed to make the playoffs.
--Field Level Media