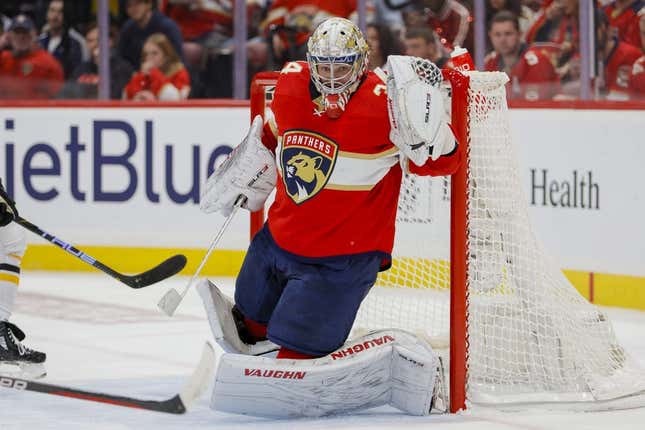 Florida Panthers coach Paul Maurice doesn't sound like he's ready to make a goaltender change
Bass' ERA stinks, but not compared to who he is off the mound | Worst of the Week Countdown
For the past three-plus weeks, Maurice has been going with Alex Lyon as his goalie -- first out of necessity and now by choice.
But in Friday's 4-2 loss to the visiting Boston Bruins in their Eastern Conference first-round matchup, Maurice pulled Lyon with 11:28 left in the third period and the Panthers trailing 3-0
The Bruins lead the series 2-1. Game 4 on Sunday afternoon will be on Florida's home ice in Sunrise, and Maurice has two possible selections between the pipes
1: Lyon, a 30-year-old career minor leaguer who this season has set personal highs for games, starts and wins. Of his past 11 starts, he is 7-3-1, and all those statistics include the postseason. Before this season, he had made just 17 NHL starts (7-7-2).
2: Sergei Bobrovsky, a 34-year-old who has been a starting goalie since his rookie year of 2010-11. However, before Friday, he hadn't played since he suffered an injury March 27. He received 7:55 of ice time in Game 3, stopping eight of nine shots. A two-time Vezina Trophy winner as the NHL's top goalie, Bobrovsky is far more accomplished and experienced than Lyon.
But here's what Maurice had to say when asked about pulling Lyon:
"It had nothing to do with (Lyon)," Maurice said. (Bobrovsky's) been sitting for a while, and he needed some action. That's all this was. It was not a critique of Alex's game."
Bruins goalie Linus Ullmark kept the Panthers off the board until Gustav Forsling and Sam Reinhart scored in the final five minutes
It wasn't so much Ullmark playing a great game. Instead, it was Boston's stout defense.
"There wasn't much there for us," Reinhart said.
The Bruins, who set NHL regular-season records for most wins (65) and points (135), were a bit embarrassed at home Wednesday, losing 6-3 to the Panthers to even the series
In response, Bruins coach Jim Montgomery shuffled every defensive pairing and every forward line
Out of all that movement came a strong performance by Bruins forward Jakub Lauko, who made his postseason debut with five hits in just 6:22. No Bruins forward had more hits than Lauko on Friday
Among Bruins defensemen, Charlie McAvoy had a game-high eight hits and Dmitry Orlov had his third assist in this series - one in each game. Orlov joined Glen Wesley (1988) as the only defensemen in Bruins history with at least one point in his first three postseason games
Boston forward Taylor Hall, who had a goal and an assist Friday, praised McAvoy.
"What set the tone for us was Charlie laying a big hit on the first shift (on Eetu Luostarinen)," Hall said. "That was a telltale sign of how hard we were going to play."
The Bruins were missing two top-six forwards -- David Krejci and captain Patrice Bergeron -- due to upper-body injuries. Montgomery said Saturday that Krejci is "questionable" for Game 4
Bergeron didn't travel to Florida with the team, but Montgomery said Friday the veteran center is "likely" to play in Game 5 on Wednesday in Boston.
Florida also has an injury concern as defenseman Aaron Ekblad could not finish Friday's game. Eklbad practiced in a full contact jersey Saturday, and Maurice said after practice that Ekblad would be a game-time decision.
--Field Level Media