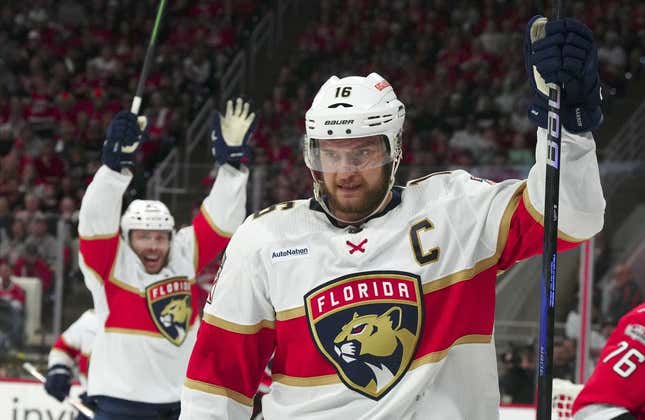 Florida Panthers captain Aleksander Barkov is not expected to be sidelined for long due to a lower-body injury sustained in Game 3 of the Eastern Conference finals, coach Paul Maurice told WQAM in Miami on Tuesday
'Soccer fandom is full of gatekeepers' says Ted Lasso actor Brendan Hunt
Barkov was injured following a seemingly innocuous hit along the boards by Jack Drury during the first period of Florida's 1-0 victory over the visiting Carolina Hurricanes on Monday. Barkov did not return to the contest for the Panthers, who hold a 3-0 lead in the best-of-seven series heading into Game 4 on Wednesday in Sunrise, Fla
"We don't think it's anything too sinister, so he'll come in and get worked on real hard today and worked on real hard tomorrow," Maurice said Tuesday. "We'll have a better idea after we see him today where he's at, but I would say I'm more on the optimistic side right now."
Barkov, 27, has collected 12 points (four goals, eight assists) in the 15 playoff games to help Florida reach the conference final for the first time since 1996. The Panthers reached the Stanley Cup Final that year before being swept by the Colorado Avalanche
A former Lady Byng (2018-19) and Selke Trophy (2020-21) recipient, Barkov totaled 78 points (23 goals, 55 assists) in 68 games during the regular season.
--Field Level Media