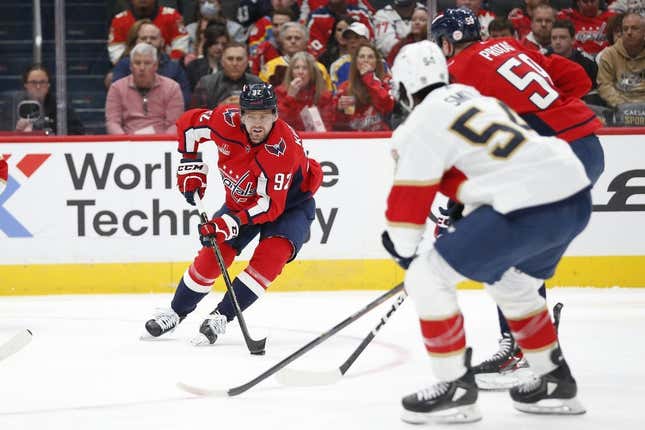 Matthew Tkachuk scored the go-ahead goal with 60 seconds left, and third-string goalie Alex Lyon made 22 saves as the Florida Panthers defeated the host Washington Capitals 4-2 on Saturday night to extend their win streak to six
Does Jimmy Butler have the best NBA Finals origin story? | Agree to Disagree
Tkachuk's 40th goal of the season came from long distance. Using a screen from teammate Aleksander Barkov, he fired from the left boards, beating Capitals backup goalie Charlie Lindgren (33 saves)
With two games left, Florida (42-31-7, 91 points) is in Eastern Conference wild-card position, although they are being closely pursued by the New York Islanders (91 points) and the Pittsburgh Penguins (90) for two available spots.
The Capitals (34-36-9, 77 points), who were without star Alex Ovechkin, lost their sixth straight game and are out of the playoffs for the first time since 2014. Ovechkin missed the game due to an upper-body injury
Florida also got goals from Carter Verhaeghe, Aaron Ekblad and an empty-netter from Sam Reinhart with 40 seconds remaining.
Washington got goals from Dylan Strome and Tom Wilson.
Tkachuk was active in a scoreless first period, getting three shots on goal, drawing one penalty, getting penalized once and scoring a goal that was disallowed because his deflection of a Brandon Montour shot came with a high stick.
With 17:32 left in the second period, the Panthers had a second deflected goal wiped out due to a high stick. This time, it was Reinhart deflecting an Ekblad shot
Washington finally captured a legit 1-0 lead with 11:09 left in the second. Strome started the play with nifty stickhandling through the middle of Florida's defense. Wilson then took a shot while falling to the ice, and Strome finished what he started with his rebound from the doorstep.
Florida tied the score with 9:04 left in the second. Barkov won a faceoff, and Montour got the puck to Verhaeghe, who scored from the right boards. That was Florida's second shot of the period as compared to 12 for Washington at that point.
The Panthers took a 2-1 lead on a power-play goal at 6:53 left in the second. The play started with the Panthers again winning a faceoff that led to Ekblad's rebound goal
Washington tied the score with 3:55 left in the second. Wilson beat defenseman Gustav Forsling to the front of the net before redirecting a pass from Conor Sheary.
The score was still 2-2 until Tkachuk's heroics in the game's final minute.
--Field Level Media