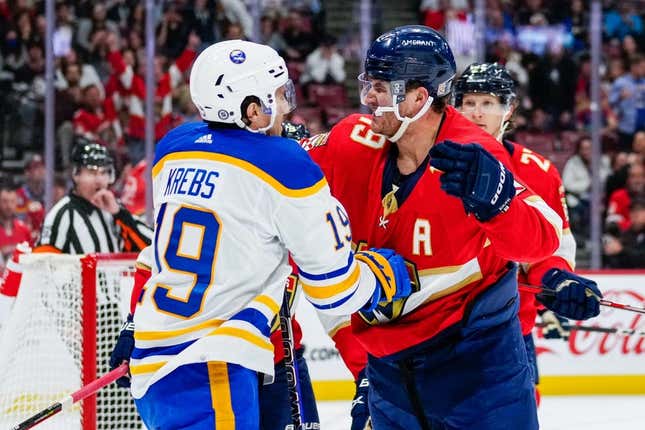 When the Florida Panthers play host to the Buffalo Sabres in Sunrise, Fla., on Tuesday night, the playoff chase will be front and center
Bass' ERA stinks, but not compared to who he is off the mound | Worst of the Week Countdown
The Pittsburgh Penguins, with 86 points, currently hold the second and final wild-card playoff berth in the Eastern Conference. The two teams closest to the Penguins in the standings are the Panthers (39-31-7, 85 points) and Sabres (37-31-7, 81 points)
Buffalo, which is 4-0-1 in its past five games, is closer in the standings than it appears. That's because the Sabres have played two fewer games than both the Penguins and Panthers
The Sabres have not qualified for the playoffs since 2011 -- the longest active drought in the NHL
The Panthers, meanwhile, have won three straight games while trying to salvage their campaign
"We have to keep grinding," Florida coach Paul Maurice said. "The resiliency is the most important part of this journey we've been on since January."
The Panthers have outscored their past three opponents 15-4
This win streak has happened while Panthers starting goalie Sergei Bobrovsky has been out due to a non-COVID illness. Alex Lyon has stepped in and played well in his absence
Bobrovsky is 24-20-3 with a 3.07 goals-against average. Lyon is 6-3-1 with a 3.25 GAA.
Carter Verhaeghe leads Florida with a career-high 40 goals, which ranked top 10 in the NHL entering this week.
Matt Tkachuk tops the Panthers with a career-high 64 assists, which is also top 10 in the league. He leads the Panthers with 102 points, which is two short of his career high, set last season
Sam Reinhart leads Florida in power-play goals (15). Defenseman Brandon Montour tops the Panthers in power-play assists (26)
The road team has won each of the first three games in this series, with the Sabres winning the most recent clash in Florida, 3-1, on Feb. 24
In that game, Jeff Skinner scored twice and Sabres goalie Craig Anderson added 49 saves, including 26 stops in the third period
Anderson, who played for the Panthers from 2006-09, said his Feb. 24 game was one of his best of the season in terms of "being sharp and in the moment.
Anderson (3.07 GAA) is one of four goalies used by the Sabres over the past six games. The other three have all been used over the past three games: Ukko-Pekka Luukkonen (3.61 GAA), Eric Comrie (3.67 GAA) and rookie Devon Levi (1.94 GAA in one career game)
Offensively, Tage Thompson leads Buffalo in goals (44), power-play goals (19) and total points (89). However, he has missed three straight games due to an upper-body injury.
Defenseman Rasmus Dahlin tops the Sabres in assists (53) and power-play assists (25)
Alex Tuch, who is second on the Sabres with 35 goals, is coming off a hat trick in Buffalo's most recent game, a 6-3 win over the Philadelphia Flyers on Saturday
"The objective is to make the playoffs, and we have dealt with the pressure that comes with that," Sabres coach Dan Granato said. "We've now hit a groove, and it feels great.
--Field Level Media