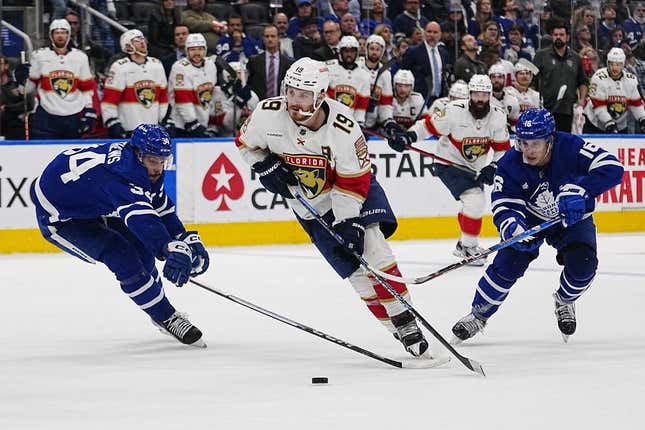 The Florida Panthers are one win away from advancing to the Eastern Conference finals for the first time since 1996
Bass' ERA stinks, but not compared to who he is off the mound | Worst of the Week Countdown
Florida leads the Toronto Maple Leafs 3-0 in their best-of-seven series, with Game 4 set for Wednesday on the Panthers' home ice at Sunrise, Fla
The Panthers have won six straight playoff games, a franchise record
"There's a lot of things going our way,'' Panthers defenseman Aaron Ekblad said
Indeed, this year has been a departure from the past quarter-century-plus of Panthers history. The Panthers went to the playoffs for the first time in 1996, in just their third season, and lost in the Stanley Cup Finals while electrifying their fan base
Since then, however, they are just 2-6 in playoff series, and that includes this year's monumental upset of the top-seeded Boston Bruins.
Goalie Sergei Bobrovsky has led the current charge as he has a .921 save percentage during this six-game winning streak. He has held Toronto to just two goals in each game of this series.
"You have to stay focused," Bobrovsky said, "and humble."
Offensively, Florida is led by Carter Verhaeghe, whose 12 career playoff goals are the most in Panthers history. Verhaeghe was drafted by his hometown team, the Leafs, in 2013, and he was with the organization until they traded him in 2017
But it's not just Verhaeghe. Matthew Tkachuk leads Florida this year in playoff goals (five) and assists (10). Sam Reinhart, who scored the overtime goal in Florida's 3-2 win over Toronto on Sunday, is also a force along with other Panthers forwards such as Aleksander Barkov, Anthony Duclair and Sam Bennett
Duclair, who missed 62 games in the regular season because of foot surgery, has two goals and three assists in nine playoff contests. His speed has made a difference.
Meanwhile, Toronto's top four scorers have been held without a goal against the Panthers. John Tavares, Auston Matthews, William Nylander and Mitch Marner combined for 13 goals in Toronto's opening-round series win over the Tampa Bay Lightning
Tavares, who has torched Florida in the past, leads Toronto in this series with 16 scoring chances, but he hasn't hit the back of the net.
Marner said the Leafs have to forget about this poor stretch of three games.
"We have to know that it's do or die," Marner said of Game 4. "We have to be ready."
The Leafs now move forward with Joseph Woll in goal.
Starter Ilya Samsonov came away with an unspecified injury early in the second period Sunday. He was replaced by Woll, who has just 13 games of NHL experience.
Leafs coach Sheldon Keefe said Samsonov was "feeling better" Monday, but on Tuesday, Woll was named the starter for Game 4. Matt Murray, who hasn't played since April 2 (concussion), will back up the 24-year-old Woll.
Samsonov had a breakout regular season, posting career highs in starts (40), wins (27), save percentage (.919) and goals-against average (2.33).
Woll stopped 18 of 21 shots but the Leafs lost 3-2 in overtime in Game 3. He went 6-1 during the regular season.
Murray went 14-8-2 with a 3.01 goals-against average and .903 save percentage during the regular season.
-- Field Level Media