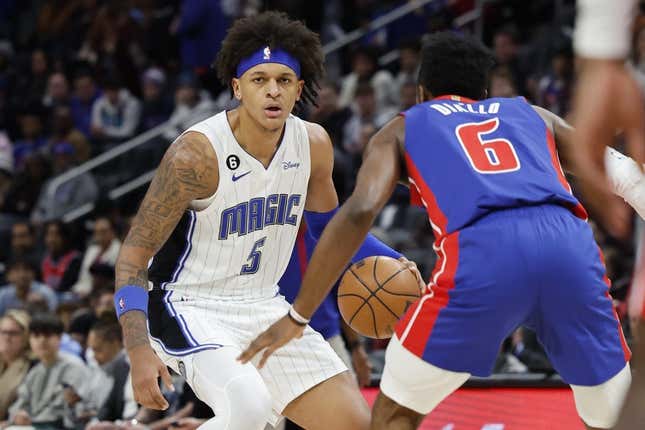 Orlando Magic forward Paolo Banchero looks like a lock to win the Rookie of the Year award. The top pick of last June's draft appears intent on putting an exclamation point on his outstanding season
Chris Paul should ride the bench next season | Keep it a Buck(et)
Banchero posted 30 points, 12 rebounds, six assists and three blocks in the Magic's 116-109 win over the depleted Washington Wizards on Friday night. He'll get another juicy matchup on Sunday, when the Magic host the hapless Detroit Pistons
Banchero is averaging exactly 20 points along with 6.8 rebounds and 3.7 assists. In March, Banchero averaged 20.7 points, 7.5 rebounds and 4.3 assists and also displayed improved 3-point shooting (37.0 percent, compared to 29.2 percent for the season).
"I think you just see it, playing both ends of the floor, being able to create, being confident and poised," teammate Markelle Fultz said of Banchero. "I don't really think it's any discussion about it (the ROY award), but of course people got to vote."
Banchero has also been very consistent while starting 70 of the Magic's 77 games. He's scored in double digits in all but four games
Orlando (33-44) will finish with a losing record but has played well of late, winning five of its last seven games. The Magic were trailing entering the fourth quarter Friday, then outscored Washington 31-13 the rest of the way
They confused the Wizards with some zone looks, according to coach Jamahl Mosley.
"I thought (assistant coach Dale Osbourne) did a fantastic job of mixing up the defenses," Mosley said. "Being able to change it up a little bit to get to (their) shooters. Our guys did a great job of communicating."
The Magic also got solid contributions from Fultz and backup guard Cole Anthony, who combined for 41 points, 13 rebounds, eight assists and four blocks
Orlando has won its last four home games, while the Pistons (16-61) have won only seven road games this season. Overall, Detroit has lost 22 of its last 24 games, including its last eight contests
The Pistons have shown a little more fight in their last three games, falling to Milwaukee, Oklahoma City and Houston by single digits. In their last game, Detroit was down by just two points with three minutes remaining but the Rockets held on, 121-115
Detroit had seven players in double figures, topped by 21 points from Marvin Bagley III.
"You don't want to get used to losing," Bagley said. "I don't care what the record is, where we're at and just staying home (for the playoffs). We don't care about any of that. We just want to win."
In their previous game, the Pistons lost on a last-second putback
They would have to win four of their last five games to reach 20 victories. The last time they won fewer than 20 games was the 1979-80 season, when they finished 16-66.
"We have to learn when a game is five points or less down the stretch, the decisions," coach Dwane Casey said. "Whatever we do, we have to make the right decisions in those situations."
Detroit leads the season series with Orlando 2-1. The home team has won each game.
--Field Level Media